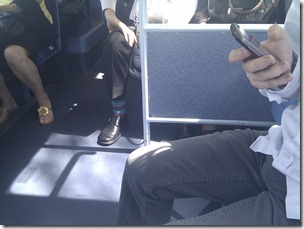 Didn't sleep much last night, as in too much pain (toothache on top of normal pain in arms and legs) and wasn't well enough to go across the room to find painkillers.
Had to be up early this morning because I had my appointment at the CFS clinic. Threw up on the bus (I was prepared with bags, luckily) and felt really rotten travelling, but wasn't too bad when I got there. They wanted to go through all my history, and there's a lot of it, so I have another appointment in a month.
The photo was taken on the way back- the man sitting near us was wearing a shirt, tie and smart trousers, with colourful stripy socks 😀 It was good.
Went to the MetroCentre on the way back, heading to Asda. Found (and bought) a new penguin!It's one of the ones from Madagascar. In Asda bought a new pair of wellys (they're a size 9! and purple! and girly!) and a new dress that should be long enough to wear by itself 😛 Also got a salad, cherries and shortbread, but was feeling really ill by this point so we paid and went home.
Went for a nap when we got back, as I was knackered and in agony. Woke up and took painkillers, then had a bath. Also cancelled carers as I was in too much pain to deal with the one I don't like.
After my bath, lay on my bed for a bit, then went on my computer to do dailies. Completed the Filling the Moonwell part of the Hyjal dailies, and did an epic storyline to kill Leyara 😀 Also was sad after doing the locket quests 🙁
Still in a lot of pain after full dose of painkillers. I need to make an appointment with the dentist (though I'm waiting to have the tooth removed) and see the doctor about the nausea and vomiting as it's getting a bit difficult to cope with now.