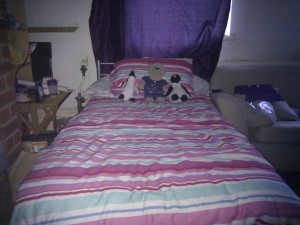 This morning I woke up about 10 minutes after the carer arrived, so I was able to get up and dressed. Once I was, she changed my bedding for me.
It's been really hot today. I have sorted out the boxes below my computer desk, so I have room in them for the things that are on my desk that shouldn't be. Hopefully tomorrow I will finish tidying my desk.
Other than that, I've played some World of Warcraft and The Sims 3, then the evening carer came to give me my bath and get me into nightclothes. I've been tired since then so have just messed around on the computer. I did manage to do an online Asda shop that should be delivered tomorrow, though.