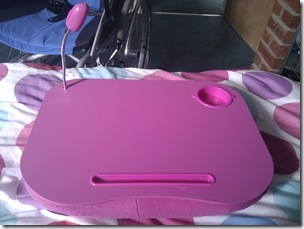 Resting day today, only getting up to play World of Warcraft for a bit, and to get a bath.
Woke up just after favourite carer left, as the postman had a parcel containing my bright pink laptop tray 😀 It's working loads better than a cushion, and my laptop hasn't been overheating since I started using it.
I wasn't going to have my bath tonight as I wasn't feeling up to it, but when I heard it was favourite carer I decided I'd have it anyway, as she lets me rest enough to be able to manage it. She also changed my bedding while I was in there, which was awesome 🙂
Set up my activity diary on my computer, copying and pasting most of the stuff from my previous one, resetting up the macros, then spending lots of time picking colours 😛 Managed to put some rest into today's diary, though I know it's an area I struggle with. I will discuss it with the clinic when I'm next there.