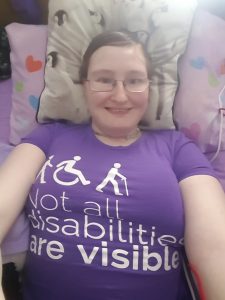 Overall had a very good week. Lots of exciting things happened and I wasn't too bad physically for me. I'm happy 🙂
I didn't manage to get out of bed, but on Tuesday I had my first proper hair wash of the year! I'm not sure exactly how long it had been, but definitely a few months. I want it to be shaved off as soon as I'm able to find someone to do it (or get to the barbers).
On Tuesday evening I went on the Surface and managed to do a food shop. Took me hours and I missed some items, but it was needed as we were running out of everything. Johan not being able to do food shops is an issue, and I'm not sure how to fix it. That's also when I changed the blog theme and sorted out some stuff that can't be done on my tablet.
Wednesday I went to sleep in the early afternoon, and I woke up early on Thursday from tramadol withdrawal as I'd not had any for over 16 hours (Wednesday morning before Johan left for his day service). That wasn't fun but luckily it calmed down after a couple of doses more on time, and slept more. The big event for Thursday was seeing Vicky! I hadn't seen her in a long time and it was good to catch up. We ended up having Indian food for tea and it was nommy.
Friday I mostly slept. Woke up in time for the evening carers and had fish and chips as it was Good Friday. I wanted hot cross buns but despite several reminders, Johan failed to get me any (and I'd forgotten to put them in the food shop). The fish and chips were good, and the penguins were very happy with my food choice 😛
Easter Sunday was another sleepy, peaceful day, though I had been on the Surface during the early hours working on spreadsheets (one for Animal Crossing, one for my carers). I also reset my level and stuff in Habitica as wanting to start again in my own party. Johan gave me a Thorntons fudge easter egg which I really like, and I had got him a Ferrero Rocher egg (which since I bought it in the shop he put away, I had to tell him not to look at it :P). I also looked up April Fools stuff online before sleeping through. I miss going to church but I don't think God minds.
There were a couple of bad things during the week (other than the tramadol withdrawal). We got several letters telling us how much bills were going to go up by, including the care agency putting up the hourly rate by about £1.50 an hour (I get 17 1/2 hours a week), the rent going up by about £5 a week, and our care costs to social services going up from about £10 a week to over £40 a week each. The first two we could manage (even without a direct payment increase – we've not been told if that's going up at all) but the last one is just too much. We'll be keeping my care because we both need it, but we're unsure about Johan and his day service. He's going to try and sort it out this week and see what we can do.
The other bad thing is I had a new care worker who despite being told I can't deal with perfume or strong scents, came in with so much on I could smell her before she even came into the flat. She came a couple of steps into my bedroom before I told her not to, and my body went mad, with a headache, breathing difficulties, and an itchy rash. That's despite putting my face mask on soon after having my teeth brushed by the other, non-stinky care worker. Johan also had to hide under his quilt as he's asthmatic. I've not had a reaction that bad since I started taking cetirizine regularly but it was horrible. I've asked one of the other care workers to tell the office I can't have her, and Johan is going to try and contact them himself if he can. She'd been warned by at least three other care workers before she came so I don't understand why she put so much on.
I'm still on a high from seeing Vicky and having my hair washed properly. I'm hoping that if we can avoid care workers who make me more ill that I'll be able to do more soon 🙂
Overall mood – Good, with some Awesome.
Average daily sleep – 7 hours 58 minutes (of 10 hours 11 minutes)
Longest sleep – 12 hours 17 minutes from Wednesday afternoon to Thursday morning (of 18 hours 10 minutes)
Clothes changed – 2 (Not All Disabilities are Visible and The Future is Accessible)
Wipe wash – 1
Water wash – 0
Hair wash – 1, with actual water and shampoo and everything!!!
Books read – 0
TV watched – 0
YouTube videos watched – Vi Hart
Streams watched – 0
Music listened to – 0
Blog posts written – 1
Penguins cuddled – Yup 🐧🐧🐧
Johan hand holds – Several a day 🙂
Johan hugs – not yet
Time on Twitter – 8 hours 14 minutes (average 1 hour 10 minutes a day)
Time on Reddit – 20 hours 48 minutes (average 2 hours 58 minutes a day)
Time on Facebook – 1 hours 56 minutes (average 16 minutes a day)
Other –

Lots of marmalade on toast for lunch, as body has decided it doesn't like cheese for some reason
Still working on my blog theme. I need to work on accessibility as well, and update pages as they're way out of date now 😛
I'm so happy I got to see Vicky! And that I had my hair washed!
Carer spreadsheet is very useful. I just need to update it more often so I can add in any changes to the rota (including if I was given notice)
Been having issues with my tablet. If it reboots for any reason, it loads the boot screen, then reboots into recovery. I need to delete the cache to fix it.
Game stuff
Games played – 5

Animal Crossing: Pocket Camp
Cross Stitch
DragonVale
Neko Atsume
Godville

AC: Pocket Camp Level – 85
Godville Heroine Level – 51 (51% done)
Godville wood for ark – 15.0%
Godville savings – 624 thousand
Cross stitch completed – 1
Most played game – Animal Crossing: Pocket Camp ( hours minutes, average hours minutes a day)
Other –

On top of the Mario event, there's another bug catching event in Animal Crossing. This time we're catching Scramblers, which are Easter eggs with legs.
Had to update my Animal Crossing spreadsheet because about 20 of my in game friends are sharing eggs with legs. I'm trying to return what they give me but it's hard.
DragonVale still has their Easter event on. I've completed everything that isn't the Rift. When it finishes I might be taking another break (until the next event).
Am working on an Easter cross stitch right now, but finding it slower as my hands are being clumsy.
Still haven't got the memento from Hermeowne. It's the last one I need!