Spending most of my time in a fuzzy state has meant no blogging and a lot less being on social media. I'll often have Twitch or YouTube on but communication is hard. Some things have happened since May though and I'm putting what I can remember here for future Danni.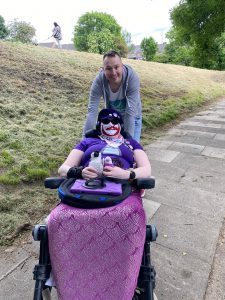 The biggest was my 35th birthday in June. As Izzy and I were both fully vaccinated, social distancing and masking was still in place, and I was feeling up to it, I was able to go outside for the first time this year, and further than the ramp since December 2019. Joining us was my brother Martin, who I'd not seen since August 2020. We had an awesome day 🙂
We went into Gateshead, as it is within pushing distance and Izzy is very out of practice. It was weird seeing all the new social distancing measures, nearly everyone wearing masks where it was busy, hand sanitising stations and other changes. I wore my Pizza John face mask as I'd not had an opportunity to wear it before this, and I like it 🙂
Just as I was recovering from that, it was announced that social distancing and masking were no longer going to be enforced, only encouraged. Along with Delta causing symptoms even in those who'd had both vaccine doses, we decided it was best I stayed in again until we saw how that affected things, then I had a series of migraines and the weather kept changing so I wasn't well enough anyway.
Izzy has cautiously been going out. She's restarted Parkrun and seen a few friends. She also ran the Great North Run, her first half marathon since she started on hormones and officially as a woman. As expected, she was a lot slower than previously, but she did better than she expected and was extremely happy with her result. She's finding it hard to get the motivation to go running outside of Parkrun, but since she's doing a full time job while caring for me day and night it's not surprising.
She's been on hormones a few months now and her body is visibly changing faster than we were expecting. Apart from a couple of dresses and skirts Sammie and I bought her she's mostly wearing her old clothes or stealing mine, so we're going to have to figure out what she likes to wear and look into actual bras. She seems a lot more comfortable with herself, though going through second puberty is interesting for both of us.
One bad thing that happened is Izzy's PIP renewal was denied, because apparently having a job means you're no longer disabled (PIP is non-means tested). We wish it worked that way, but it doesn't. Because of everything else going on (full time job, looking after me, starting hormones, having no help, The Event) she doesn't have the mental capacity to ask for a reconsideration or appeal, but once things calm down again we'll put in a new claim. She's still entitled, just the normal lies and inaccuracies that assessors give.
We'll also be affected by the removal of the £20 a week Universal Credit Covid help at the end of October. We'll be okay, but it does mean having to reduce some bills and trying to rely on takeaways a bit less (which we have so frequently because Izzy isn't able to make food everyday). We got a new big fridge freezer which helps, and Izzy managed to reduce our Virgin Media bill while also increasing our broadband speed which is good. Ocado have also started delivering in our area so before we lose it we did a shop for fancy food that has helped with the less takeaways thing. They sell Kex and Plopp, two of my favourite Swedish chocolates 🙂
I tried to get someone to come in and declutter/do a big clean, but two companies just stopped communicating with me and I've not had the energy to look for more. As Izzy is able we're getting stuff taken by the council, and I've offered to use the money I put aside for the decluttering company towards her trans stuff if she's able to do more of it herself, which is a big incentive and seems to be helping a bit with her executive functioning. She did manage to get enough done to get the new fridge freezer in, and a new dryer as it turned out ours had packed in. The new dryer is helping as it's meaning we're getting caught up on laundry which wasn't helping matters. Luckily we bought them before our income reduced.
I managed to play World of Warcraft on and off until August, then I became too ill. I didn't get on my computer at all during September, and was struggling to use my tablet at times. Today is the first time my brain has been vaguely working since then. What brain ability I have had has mostly gone into helping Izzy with stuff she struggles with, like reminders, food shops, timers for cooking food, making sure she gets up at certain times if I'm awake. When I've been physically okayish I've been able to have a wash, brush my teeth, and a couple of times even fold some clothes, but those days have been less frequent than I'd like.
The one thing I have learnt that's new is how to solve a Rubik's cube. It took me over 30 hours, and I'm not able to do it correctly every time, but I got there in the end. I bought one as a fidget toy, got really into watching speed solving on YouTube, then found a pdf guide that I was able to understand (the videos were too confusing for me). After a week my super cheap cube was annoying me too much with the spring noise (a spring scraping the plastic when it's turned a certain way) so I bought a slightly nicer one (the YuXin Little Magic 3×3 M from Kewbz UK) and paid to get it set up so I knew it wouldn't have any issues. It's so nice to turn and much easier for me to use. I gave Izzy my other one but she keeps using mine instead 😛
I also managed to finish my loom knitted arm warmers. I want to make another pair as they're so cosy and also have a hole for my watch so I don't have to take it off, though maybe in a slightly lighter weight yarn as sometimes they're too warm. I need to find my yarn stash as it's somewhere but I'm not sure where. As my hands are slightly better I want to try hand sewing some small items, so bought a hand sewing stitch book. It's awesome but very heavy.
I was really struggling to use Daylio, and I stopped when I figured out why. Though it was fine for tracking activity, trying to figure out my mood was too much when my brain went to fuzz and to get to the activity tracking you have to go through the mood bit. So I'm now hunting for an app that will help me track things without needing to worry about moods. I've got Habitica for habit tracking and that works well, but it's hard to see when I last did something when I'm on my tablet and I'm not using my computer often enough to check there.
The neighbours are a bit less problematic now, probably as the council warned them. Still have the occasional bad night where there's someone outside ringing our doorbell and throwing stones, but most nights ear plugs are enough to block out the noise. I get very anxious when Izzy is out, but there's not much we can do about that and I'm not stopping Izzy doing the things she needs or wants to do, especially as she's doing so much for me.
I'm hoping that I manage another blog post before Christmas this year. I've got so many plans and being fuzzy and out of it sucks. Hopefully it'll be better now 🙂