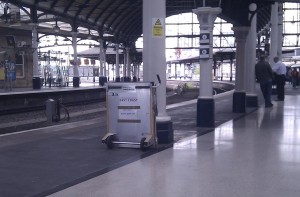 Today was the day of Johan's uncle's 50th birthday party in York, and we went. This involved getting a train, then walking to the hotel, then taxis to and from the pub it was held in. The ramp at the train station is apparently not for public use, but I was allowed on it anyway (I guess I'm not a member of the public? :P).
The assistance for the train was excellent. Even though it wasn't fully booked (we left it quite late) they were really helpful. We had booked the wheelchair space on the train, and it had a plug socket so I could use my laptop on it 🙂 Getting off at York was also easy.
I have also discovered that if you're disabled and want to use a taxi, you better not be tall 😛 I had to duck quite a lot to get in the taxis in my wheelchair, and I'm not particularly tall for a human (though at 5'10", I'm tall for a girl, plus it's mostly legs). Luckily the drivers were helpful.
The pub was not disabled accessible at all, but the first taxi driver used his ramp to help me get in. Using the toilets meant Johan having to come into the ladies, which he was a bit uncomfortable about, and me having to go from my chair to the floor then to the toilet as my chair didn't fit into the cubicles. It worked, but it hurt my arms a lot trying to pull myself off the floor.
Overall today has been good, though it was too loud at the party, and it was nice to meet Johan's family. Tomorrow we travel home.