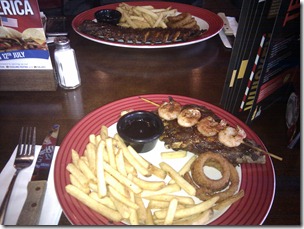 I managed to scare Johan this morning by being awake and semi-alert by the time he came downstairs at 9.15am. Favourite carer came this morning and did housework, helped me get dressed and teeth brushed, and then re-did my hair in French plaits so they were tidier (we've agreed she's going to practice on me when she has the time :P).
As it's their 25th birthday, TGI Fridays had an offer where if you were born in 1986, you could get free food (up to £20 worth) between 1st and 4th July, to also celebrate American Independence Day. I was insistent that I was getting that offer, so today we went there for lunch. I had mozzarella dippers, Jack Daniels ribs and shrimp, and a popcorn brownie sundae. In total for the food I paid 47p 😛 Johan had stuff from their normal food offer, and with drinks it came to just over £20 for the two of us. Not bad at all. The food was delicious, though the shrimp were too spicy for me so I gave them to Johan.
Afterwards we went to the MetroCentre, to get my prescription (they put the wrong one in, so I'm fine for ibuprofen but short on my other meds- whoops), buy books and look for shoes. Didn't find any shoes, but I did buy a hat and a new bra. I forgot to get the postal order I needed though, so will have to get that tomorrow somehow.
Came home and have been on World of Warcraft. Levelled Elisaveta (Worgan Mage) to level 50. Favourite carer and nicest male carer came and managed to get me ready for bed and do all the kitchen stuff in about 7 minutes. I'm amazed and at how quickly they can do things.