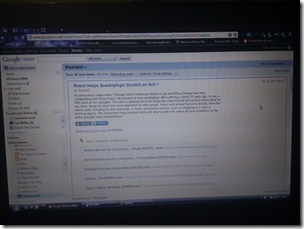 I have a lot of blogs and things to catch up with on Google Reader…
The payback from seeing Harry Potter is in full force. Been in a lot of pain and especially weak and floppy today. Was awake for favourite carer coming this morning, but was way too tired to get up. After a couple of hours I got up and did dailies and things, but I had to go back to bed afterwards. Napped for 6 hours this afternoon, then the carers came and brushed my teeth and things this evening, though one of them was knocking on the door so loud that I was extremely panicky.
Tried reading things on laptop in bed again, though not much is going in. Felt okay to sit up so levelled Elisaveta a bit.
Good news is Still Got Legs by Chameleon Circuit is now on Spotify, and I got my digital download link 🙂 Nightmares is my favourite song I think, though I love the entire album. I recommend it to any Doctor Who lovers. If you don't have Spotify, you can listen for free athttp://chameleoncircuit.bandcamp.com/alb​um/still-got-legs