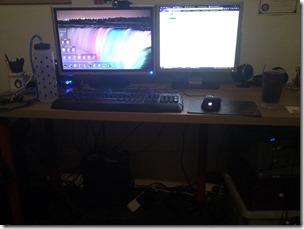 Woke up just as favourite carer was arriving this morning. She went and did stuff in the kitchen, then when she came back I was alive enough to get up and dressed and stuff. Did my dailies in World of Warcraft, then messed around for a bit.
Also this morning I tidied my desk, and started tidying the rest of the living room. Hopefully tomorrow it will be done enough to take photos of 😛
Favourite carer came back at 6pm to help me with my bath. Had a nice long soak, then got out, lay on the bed for a bit then got ready for bed.
This evening I had a couple of dragons to kill, so logged back into World of Warcraft to work on Nefarian. Got a bit upset because I was struggling madly to try and heal the Onyxia/adds tank, but once I swapped to the Nefarian tank it was a lot easier for me. After about 3 hours, we got him down 😛 I also got the achievement Defender of a Shattered World, so I have yet another title that doesn't fit through doorways 😛
I also ran another Troll dungeon, so I'm valor point capped for the week 🙂