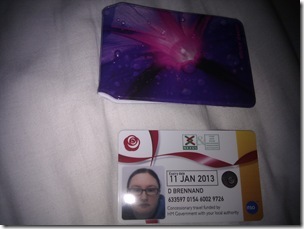 Woke up after the carer had been, and got ready to go out as I had a dentist appointment. It went okay- the dentist put a temporary covering over the hole in my tooth that's been bothering me, and gave me a prescription for antibiotics, and promised to chase up the appointment to get it removed.
Went to the library on the way back, then put the prescription in at the chemist. When Johan went to pick it up, we realised I wouldn't be able to swallow the tablets (I'm having enough problems keeping my normal ones down) and they couldn't be crushed, which is what the dentist had said to do when I mentioned I was struggling to take tablets. Johan spoke to the chemist, then went back to the dentist for a prescription for the liquid form of the antibiotics. It doesn't taste very nice, but at least I can get it down.
Today's post included my disabled bus pass 🙂 I have put it in the pretty travel pass holder I'd bought last week, as the one it came in is green and not very nice.
Panicked when the evening carers came again, and Johan sent them away. Read a couple of the books I borrowed and went to sleep as I was knackered.