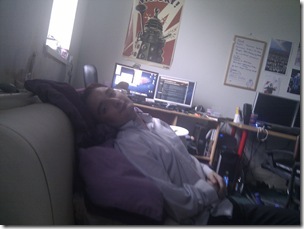 Johan has been sleeping downstairs for a couple of nights. He can make himself rather comfy 😛
Not had quite as good a day today. Walking was nowhere near happening, but that's okay. Not been too bad considering how long a day I had yesterday.
Slimming World stuff has been interesting. A few of my favourite things are going to have to be occasional treats 😛 Been able to keep on track though 🙂
Had a bath tonight! First time in a week, because of illness. Also watched telly and was reading Twitter. Also reading Malory Towers on my phone, which is nice.