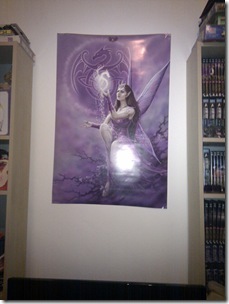 This is the poster above my television. I love it.
Slept forever today 😛 Woke up about 3pm, Went on computer, but was too tired to stay on it for long. Managed to go back on it for a bit later, though.
Didn't do much though, other than finish reading Malory Towers on my phone, and just messing around in general. Carers were early again, and it was different people than on the schedule, so I panicked. Not happy.
Mostly resting so I can be well enough to go to BarCamp on Saturday 🙂