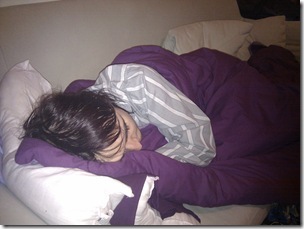 We now know why we needed to come home last night. Johan seems to have come down with some sort of bug, and has not been feeling well at all 🙁 He's spent most of the day sleeping on and off on the sofa.
Because of this, we didn't go back to BarCamp today. Although I am sad to have missed it, Johan needed rest, and we had been to the longer of the two days so it's not too bad. I spent most of the day reading TV Tropes.
Favourite carer came to give me my bath, and I also asked her to get my tea as Johan wasn't well. She did so, and even made it look pretty for me 🙂 It is a sign of how much I trust her that I felt comfortable asking for her to do something that isn't on my care plan, as with anyone else I wouldn't have been able to do so. She is awesome though, and my bath was nice 🙂 She's also the only one who lets me rest in between each stage of having a bath/getting dried/getting dressed/getting hair sorted.
Hopefully Johan just has a 24 hour bug type thing, and will be better tomorrow. He's not sure if he's sleeping on the sofa or upstairs yet, as he doesn't know if his legs will get him there.