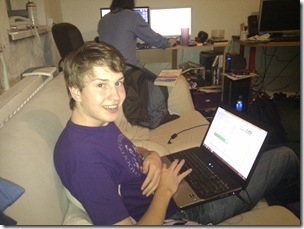 A wild Martin appears!
Slept in today, until 1pm. I needed it to catch up with the lack of sleep recently. Was very groggy all day, and wasn't well enough for a bath when favourite carer came this evening, but she did some tidying instead.
My brother arrived while favourite carer was here. He's staying overnight, then here tomorrow to Danni-sit me while Johan goes off to Manchester. I was meant to be going with him, but I'm not well enough to travel that sort of distance at the moment.
Spent the time I've been awake doing pretty much nothing on the laptop, resting, then a short period on my desktop computer playing World of Warcraft on the US realms.
Tomorrow, I hope to get dressed 😛