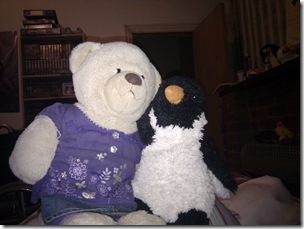 Today Johan wasn't in, so Martin looked after me. He did well, except for the trying to break my toes when he was pushing me in the wheelchair :p
Today has been another lazy day. Played World of Warcraft, The Sims Social when it would work (it's not again now), tried to read a book but didn't have the concentration  so read a magazine instead. Also watched Doctor Who and ordered a new wheelchair. New wheelchair is the same as the old wheelchair, just less broken.
It's been fun having Martin here, and he's staying overnight as he can't be bothered to get two buses home. Johan got back around 9pm, and he said he enjoyed his day out. Now I am the sleepies so will be turning laptop off and going to sleep.