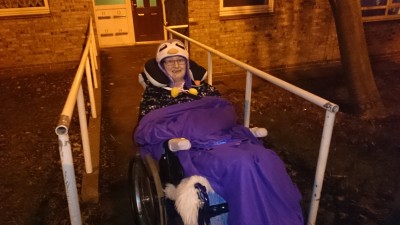 When I woke up today (around midnight as my sleeping pattern is still messed up due to being awake 16 hours then sleeping for 12) and after the normal morning blehness had worn off, I felt about as well as I had the last couple of days. As there was no power cut to deal with, I decided to try and get into my wheelchair. With some help from Johan (lifting me from the bed into the chair) I managed it and didn't feel too bad. Since the living room is currently inaccessible to me (the double bed I was using before I got the hospital one is in there, along with other stuff) I decided that I wanted to go outside. Johan took me out and I spent about 5 minutes looking at the trees, the stars and down the hill towards the main road. It was amazing!
When I got back into bed I needed to rest for a bit, but I wasn't too bad afterwards. A bit shaky, dizzy and nauseous, but nowhere near as bad as the last few attempts (when I tried and failed to go to hospital for an appointment). I have discovered that I find the footplates too hard now while only wearing socks (I used to be fine with bare feet) and getting in and out is still the worst part, but once I had the cushions in place to hold my head up and was settled I felt okay.
I'll have to see how I am over the next few days to see if it's been too much or not (problem with post exertional malaise- you don't know how ill you're going to be immediately) but if I continue to be okay I've got plans. Next up is getting into the living room (will need to make space for that), then it's going out somewhere. Current thoughts are the local shop (about 3 minutes away, pretty accessible), library (5-10 minutes walk away, has a Changing Places toilet, is quiet) or into central Gateshead (5 minutes away by bus, Changing Places toilet in the Civic Centre, has changed massively since I was last there). I'm mentioning the Changing Places toilet as now I use pads and have a wheelchair of massiveness normal disabled toilets are no longer accessible to me, but the Changing Places toilets have plenty of room, an adult sized changing bench (often adjustable, including the two I mentioned) and a hoist (which we can't use yet as Johan doesn't know how and I don't have a sling, but will be useful when that's sorted). Not being able to use the hoist will make it a bit awkward, but between the two of us and adjusting the bench so it's slightly lower than the chair should make it easier. It's a ton better than trying to lie me on the floor of a normal disabled toilet and then trying to get me up again 😛 This is a link to the Changing Places website.
So I'm excited. I'm really glad that I've so far had three days of being much better, and can even think about planning stuff. There's still a chance I've overdone it and will drop back down, in which case I'll take it as lesson learnt and just remember being able to do things until the next time (I'm scared it's going to happen, because it has before). It's incredibly tempting to keep doing stuff while I'm feeling so good in comparison to my recent normal, yet I know I need to take it slowly and I've got plenty of time to sort things. Still, rest and chocolate seems to be helping so I'll keep on going and praying and hopefully I'll get there 😀