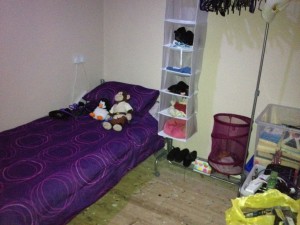 I'm now nocturnal, thanks to sleeping most of the day on Thursday when I was meant to be going to the hospital. I'm not concerned about this, as otherwise I'm not doing too bad for me (so long as I don't move, I'm not touched, and I don't eat) and I figure it'll sort itself out in its own time.
For Valentine's Day I kicked Johan out so that Becca and I could sort out his bedroom. He went to see The Lego Movie (he really enjoyed it and said it was very good). Becca brought all the boxes in Johan's room into mine so I could work out where things go, and after a lot of work (mostly by Becca) we got it sorted. When she'd finished, she made the bed, put Patricia (the penguin) and Charlie (the Jedi monkey) on top and took a photo so I could see.
Johan was very happy with this, and we decided that on Saturday he'd replace the single bed with the double bed I used to use, as there was now room to do that. He also moved the remaining boxes into the cupboard, dismantled the clothes rail, moved in the spare computer desk, and a spare kitchen cupboard we happened to have for his clothes (until we get him a chest of drawers). He's now wanting to put his posters up (we can't paint until I'm less sensitive to smells or able to disappear for a few days) so it feels more like his space. Since he'd been sleeping in what was effectively a storage room for two years, I'm hoping he enjoys having a proper room (and having the double bed- he's yet to tell me which is more comfortable though).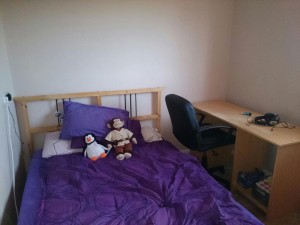 This means our flat is getting closer to being sorted. Now the living room is the main room that needs working on, but that shouldn't be as difficult as Johan's was. We have a lot of boxes to sort through and I need to get some bookcases for all my books. The plan is to get a daybed frame and use that with the (now spare) single mattress to replace the sofa, so that if we do have someone staying over they've got somewhere to sleep, and maybe I'll be able to lie down in the living room when I'm doing better. This is mostly because we don't otherwise have room for all three beds (my hospital bed, the double bed in Johan's room and the single bed) and that mattress is really comfortable so I don't want to get rid of it 😛 Our sofa is rarely used as such anyway (Johan spends all his time in his computer chair, and I'll be in my wheelchair if I go through there) so having a daybed is a better idea. We'll also be able to use bedding and cushions to make it purple 🙂
Becca went home yesterday (Sunday). I think she enjoyed her stay here, even though it included a lot of hard work. It was nice for us as well- having someone else to talk to and just be with for a few days was good, and she has a pretty good understanding of my needs so I didn't have to worry about offending her or upsetting her if I needed some time alone. We have determined that she doesn't want to do personal care as a job, but she's able to provide mine okay so it meant Johan got a bit of a break, even while he was here.
Since I'm not doing too bad, I've been playing probably too much World of Warcraft. In the last day I've got my Pandaren Monk Dannila to level 90, and my first Battle Pet to level 25. After I wake up I'm going to be doing some recruit a friend levelling with Becca, which will be fun. We're currently level 56 and I'm hoping we'll reach level 60 so we can get flying (I'm supplying the gold, as my gold making is ticking over even though I've barely worked on it recently). Now I've got my first max level battle pet I'm finding it much easier overall, so it shouldn't be too long before I have several of them. I've got a list of goals for World of Warcraft so I have some idea what to work on, especially as different things require different amounts of brain power/concentration (I'm not well enough to raid at the moment but pet battles and levelling are fine).
I still can't watch My Little Pony, which is frustrating. Not sure why exactly but I just can't seem to understand what's going on. This is especially confuzzling as I'm able to play World of Warcraft okay. The same thing applied to trying to watch the Winter Olympics- I had no idea what was happening, though the figure skating I saw was pretty. I'm managing to read okay (even if I can't remember it afterwards) so I'm going to guess it's a problem with auditory processing being particularly bad at the moment. That'll also fit with me struggling to understand Johan when he's talking to me. I need to get the subtitles on for Ponies but that requires brain power and mine is limited 😛
I'm happy. Johan has been cheerful recently as well. I've done some productive things (cancelled Netflix and Unblock US as we're not using them right now- we'll resubscribe when we want them) and I've got a plan for other things that need doing so I can sort them when I'm next able to. Even though I might need to wait until June to see my consultant (that's when my next appointment is- I'm hoping for a cancellation) I feel like I can get things sorted and moving forward now. I still have some problems (my body does not like me eating- doing so causes bloating, nausea and pain no matter what I'm having) and I can't get out of bed yet, but they will get better.