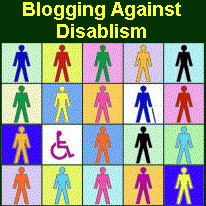 (This blog post is part of Blogging Against Disablism Day 2014. Is is hosted at http://tinyurl.com/BADday2014)
One of the hardest parts of disablism (or ableism) to deal with is how it invades your thoughts. All those insults and comments that have been said about or to me stick in my brain, and come out when my disabilities affect me. The thoughts that I'm not really disabled, that I'm just lazy or stupid or selfish or putting it on, things that have all been said to me by people aware of my disabilities.
I know logically that being disabled does not make me a bad person. Having impairments and needing help and support has no impact on my worth. Yet years of bullying, often based around my difficulties, mean I find it hard to accept sometimes. This isn't helped by the current treatment of disabled and vulnerable people in the press, or how a lot of people talk about disabled people.
Recently on the news there was a story of a mother murdering her autistic son and then killing herself. Most of the articles were sympathetic to the mother, and went on about how difficult her son was to deal with. The fact a child was murdered because of who he was didn't seem to matter. As an autistic person, it scares me, and it feeds into the thoughts that I'm not worth it. He deserved to live, and there is no justification for his murder.
Johan often tells me off for apologising when I ask him to help me. I can't stop doing it though- years of being told I didn't deserve it mean I feel guilty when asking for help, even though logically I know that I need it and Johan is quite happy to help me. I even tried to justify the neglect I suffered in the care homes for the same reason. If it had happened to anyone else I'd be outraged and want to do what I could to fix it, but because it was me and because I only deserved bad things because I'm not that ill/putting it on/it's all in my head I felt guilty for even mentioning it.
Before my ME got bad there was no real external sign I was disabled, though I was odd enough to be called names/beaten up/literally trodden on. I was blamed for my difficulties, often by the people who should have been supporting me. The result was years of depression, and even that came with it's own disablism. Though I'm no longer depressed, I still have times where I think I'm lesser because of my disabilities. I know I'm not the only disabled person who has this.
All people matter. Everyone should get the help they need, regardless of who they are. If someone can't do something, that should be accepted and they shouldn't be treated badly because of it. They also shouldn't be denied the chance to do what they are capable of. No matter what people think, this is true. Now I just need to convince my brain of this.