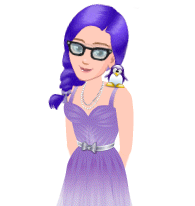 Today was better than yesterday. I've not been able to be as high up as I would like, but I have managed computer and talked to Sammie and things.
The main thing I spent today doing was attempting to make an avatar for the High School Story forums. I have access to all the game's assets so thought it would be easy. It wasn't. I gave up completely on the idea of hands (why wouldn't they look right?!) and it took me far too long to figure out where the face/head/clothes go. I based it off my actual character in the game but changed my hair colour to purple (from red- purple isn't available in game) and added a purple dress normally worn by one of the other characters (Payton), and glasses from the Nerd outfit. Once I'd figured it out (several hours later), I added the purple Tux that's the mascot for this website on my shoulder as a pet. If I struggle with putting together a few ready made assets, I'm never going to be good at actual graphics design 
I'd completely forgotten about the Black Friday sales when I bought the printer. The good news is it works, and it's much quieter than the old one. It's a colour laser printer with wifi so I don't have to rely on anyone else to print for me (though I do need them to go fetch the printouts afterwards). Hopefully I'll be able to print the stuff out for the carers and things will be easier.
I found out The Sims 4 was on sale today, and as it was on Sammie's Christmas list I bought it for her. After a few issues with Origin (password is incorrect messages- yet it was exactly the same as the one I was using and it worked fine here) it's now downloading and I have a very happy daughter. Ideally I'd have given her it at Christmas but the DVD was much more expensive and there's no gifting system on Origin. Sammie being happy makes Danni happy 🙂
Over the next couple of weeks I need to finish planning all the Christmas (and birthday) shopping I still need to do so I can try and get it all done before Christmas itself. Sammie is mostly sorted but there are other people, like Johan. Luckily I'm not super ill like the last few years so I'm hoping I'll be able to do it with plenty of rest and some help from Johan. I've also got WoW to play (though I should probably look at ways to reduce time needed to do things in there, as it's taking me 2+ hours just to do garrison stuff right now) and I got to rank 20 in Hearthstone today for the cardback. No losses with a priest deck made up of random cards I liked the look of 😛 Unfortunately by the time I got to speak to Sammie my brain was pretty broken so I couldn't play Minecraft, but talking was fun.
Only 2 days to go to complete NaBloPoMo. I'll be really happy if I manage it, and even happier if there's no relapse this year. Bad days I can cope with, bad weeks are much harder.