Today is ME Awareness Day. I was hoping to record a video, but today I'm unable to speak or tolerate much light so it wouldn't have been very good. Instead I'm writing this blog post.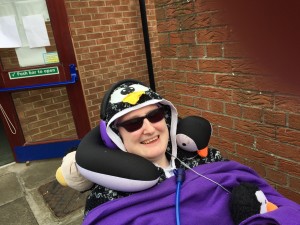 On Thursday I did something huge for me. I got in my wheelchair, went out, and voted. It was the first time this year I'd been out of bed other than to go to hospital. It confirmed to me that when I get my hoist I'm well enough to spend some time in it, as the only bit that was problematic was getting back into bed. I didn't have the strength to transfer so Johan ended up throwing me on the bed. It worked, but was painful.
Over the weekend I saw friends. Rammi came up from London to stay for a few days (and see S Club 7 with Johan) and Marga and Sue visited on Saturday with their daughter and witnessed my name change (I'm now legally Danni rather than Danielle). It was awesome and I'm glad I saw them, but now I'm paying for it.
Yesterday I was awake for about 5 hours in total. Hard to tell exactly as my sleep was very disrupted by nightmares and pain. Not unusual at the beginning of payback.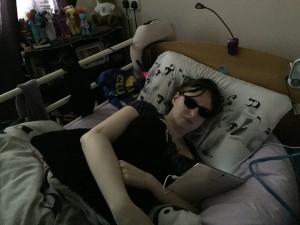 Today I woke up when the carer opened my door this morning but unfortunately I had sleep paralysis so wasn't able to tell her I was awake. Fell back asleep she left and was woken again by drilling. I already had ear plugs in from yesterday but even with them and my ear defenders on it went right through me. Not my favourite way to be woken up.
It's hard to tell which symptoms are worst right now. I made the mistake of drinking a milkshake so nausea is really bad right now, though hopefully the anti emetic will help that soon. Lots of coherent types of pain. Muscles that feel like they've been overused and ache, joints that feel inflamed (though logically I know they aren't). Skin that is both itchy and burns. Electric shocks going through my nerves, especially my arms and legs. Chest pain that's worse when breathing. Abdominal pain worse than the gallstone pain I had. Head which is pounding, made much worse by any movement, sound or light (I'm struggling to use my tablet on minimum brightness with my sunglasses on, so am mostly using one eye). Sore throat which hasn't femur better in over 5 years. Random spasms and paralysis to make things interesting. Unable to speak and struggling to make noise, and can't understand most of what Johan is saying. And those are just the ones
I can figure out right now.
I'm lucky. Painkillers help me a little bit. I only get this level of illness if I've overdone it. For some people with very severe ME, this would be a good day. I have my tablet so can type to communicate and try and distract myself from how I'm feeling. I have hope that when my hoist arrives I'll be able to get out of bed more regularly and build up my time in my wheelchair. For many, that's not an option as they're just too ill.
Even in my good days I'm in pain, have severe muscle weakness, experience more symptoms than I care to list. Spending time in my chair sent my heart rate racing, and made me feel even more dizzy despite being fully tilted and reclined. Yet to me it was a massive achievement. I'm not scared of activity, but I'm afraid of payback as if I push too far I could relapse and become more ill than I already am.
I've blogged before about ME. You can find some of the posts linked to above.