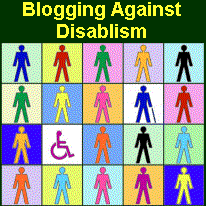 This post is part of Blogging Against Disablism Day 2015. My brain is very foggy so apologies for any mistakes.
There's an election next week here in the UK, and I'm scared. The last five years have been very difficult for my friends and relatives, and it's looking likely that it's just going to get worse. We're some of the least affected I know, yet even we're feeling the effects of the cuts and sigma caused by this coalition government. Most of it is because we're disabled and not a "hard working family".
I'm one of the lucky ones in many ways. When moved over from Income Support to Employment Support Allowance, I was placed directly into the Support Group without needing a work capability assessment (the Support Group is for those considered unable to work now or in the near future even with support, though the criteria is mostly unrelated to ability to work). My Disability Living Allowance renewal (I've not been moved over to Personal Independence Payments yet) went through without an assessment as well. Now that's probably due to being completely bedbound and having mountains of supporting evidence, but I'm incredibly grateful. It's also very rare.
The coalition government's stated aim was to reduce the amount of people on benefits, especially the disability and illness related benefits such as the ones I'm on. They've managed to do this, but not to the extent they said they were going to, as most people were more ill or disabled than they realised and the fraud rate was much lower than they implied. What they have done is caused a lot of harm, and even deaths through sanctions, delayed and denied benefits, and the effects of other cuts culminating in people no longer being able to manage when previously they could.
It's already very hard. If you're not a "hard working family" (working full time – part time even if you're ill or disabled doesn't count) then none of the big political parties want anything to do with you. If the Tories get back in, they want to extend the sanctioning system they're already using against the unemployed and those in the work related activity group on ESA to those who are working part time, even if there's no full time jobs available. They want to tax DLA and PIP,  reducing the incomes of the ill and disabled further. That's before we get to things like universal credit, the benefit cap, and the other ways they're apparently going to slash the benefits budget.
Labour have also gone full in with the hard working families talk, and have said they don't want to be the party of those on benefits (so people like me). The Lib Dems supported the Tories with all the benefit cuts, so no matter who gets in (as with the first past the post system it will be one of the big parties, even if they have to form a coalition) it looks like it's only going to get worse for those who are ill or disabled in the UK. UKIP are scary with their racism and bigotry, and though the Greens are the closest in terms of politics to my views they support euthanasia, which is dangerous in a society that considers disabled people worthless.
I'm too ill to work. Even the government agree with this. Johan looks after me, which means he's on call 24 hours a day, is frequently sleep deprived, and he still hasn't got the help he's been assessed as needing by social services. Esther can work part time, but even though there are very few full time jobs available and many people chasing each one she doesn't count either, despite doing voluntary work on top of her paid job.
There's already been an increase in disability hate crime, mental illness, worsening health and deaths due to the government and the scrounger rhetoric. Friends who have ended up begging for help as they have no income while waiting months for assessments and to hear whether they've jumped through enough hoops, friends who have ended up in hospital because of the stress.
I hope I'm wrong. I hope that whoever is elected in on Thursday will reverse the budget cuts, tightened benefit criteria, the sanctioning system and actually work to improve life for those of us who can't work full time. I don't have a problem with fair assessments for benefits, or for helping those who can work with support to do so, but it needs to actually be support, not just threats to remove someone's income if they can't jump through often impossible hoops. I don't know who's going to be in power next week but there's a chance to improve things and I want them to take it.