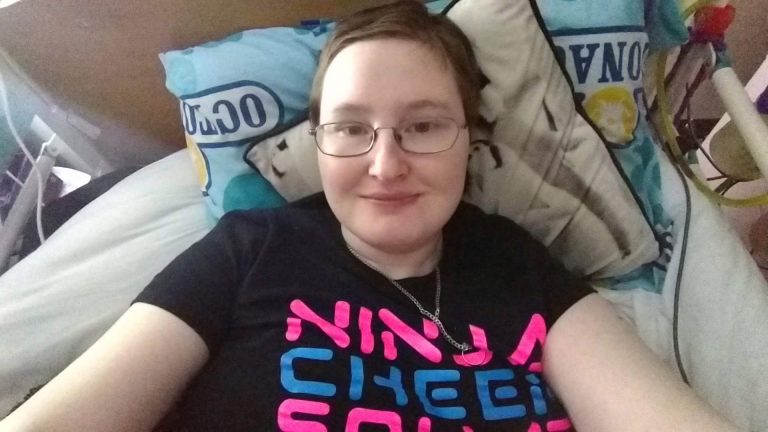 Overall a decent week, though not everything went to plan. The photo was meant to be taken outside, but that never happened.
I'm still mostly playing World of Warcraft when up to it. This week I mostly worked on world quests, missions, reputation and archaeology. The release of Warfronts meant I'm no longer struggling for war resources.
At the beginning of the week, I slept enough to go into tramadol withdrawal. That was definitely not fun, and I would not suggest it. Have new agreement with Johan that he'll wake me up to give me painkillers before he goes to bed if I've not had them that afternoon. I can manage about 16 hours before getting withdrawal symptoms, which doesn't work when you sleep more than 19 (normally pain wakes me up earlier, but this was a crash from hormonal stuff). Once it was sorted I was mostly okay, and the hormonal stuff and cramps went back to normal, which I was happy about.
Sunday was the Great North Run. As I had big plans, I started super rest mode on Friday, which meant no going on my computer. Saturday I got ready, with hair and body washed (shampoo caps and bath in bed wipes are awesome) and changed into my Ninja Cheer Squad top. 
During the night, I had an accident that required waking Johan up at 4am, needing my Ninja top rewashing and bedding sorting. That was definitely not the plan. Johan washed my top as soon as it was 7am (as we didn't want to break the noise rules) and chucked it into the dryer.
I'd booked two carers who were due to arrive at 8.30am, so I could be hoisted and then taken to go watch the Great North Run (due to the hills I knew that one carer wouldn't be able to manage alone, as most aren't as strong as Johan or as mad as the carer from last year). Sammie arrived at that time, but I'd forgotten the carers could be late. Luckily a nice neighbour let her in (Johan had deliberately left the flat door unlocked when we realised this might happen). At 8.45am one carer turned up, and told me that the second had called in sick and there were no replacements available. This meant that I couldn't go out, which sucked, especially as there were so many people I wanted to see in the race, including Johan.
We ended up watching the race on the telly, while talking to Sammie and the nice carer who arrived (I'm pretty certain she's autistic – she wouldn't be surprised, and we both found her really easy to talk to). I spotted a few Running Ninjas (running group Johan and I are members of on Facebook) but not Johan. Sammie ended up sitting/lying on my bed next to me, and I let the carer sit in my wheelchair so we were all comfy. We had sweets and pop and it was good, even if not if what originally planned. My normal lunch time carer also turned up, as the agency had not taken her off the rota when adding the other two. She made ham sandwiches for both but with the other carer being here there wasn't exactly much for her to do. 
After the Great North Run coverage finished, and the carer had left (I'd booked her until 2pm) Sammie and I had lots of cuddles and watched some Doctor Who, and we also chatted a lot. It was awesome and something I hope to repeat at some point, though maybe not under the same circumstances. She left after my afternoon carer finished and I went to sleep as I'd been awake a long time by that point.
Johan did really well in the Great North Run, with a course personal best of 1 hour 29 minutes 32 seconds, coming 484th 486th 485th out of 43582 (I think they've stopped changing his position now :P). I also tracked a few Ninjas and friends, and they all finished in really good times. I'm super impressed.
Overall mood – Good and awesome, with high symptoms until the weekend. Had extra meds on Sunday which helped (was originally so I could go out, but instead let me have lots of cuddles).
Average daily sleep – 9 hours 26 minutes
Longest sleep – 19 hours 38 minutes, from Monday afternoon to Tuesday afternoon
Clothes changed – 4 (accidents happen)
Wipe wash – 3
Water wash – 1
Hair wash – 1 (shampoo cap)
Books read – 0
TV watched  – Great North Run and Doctor Who with Sammie
Streams watched – 0
Youtube watched – yes, with Johan (though I didn't note down what)
Music listened to – Daughter of the Sea. A few hundred times. I'm slightly obsessed 😛
Podcasts listened to – Episode 51 of Welcome to Night Vale
Blog posts written – 1
Penguins cuddled – Always
Johan hand holds – Plenty
Johan hugs – Nope, but lots from Sammie 😀
Time on Twitter – 7 hours 54 minutes (average 1 hour 7 minutes a day)
Time on Reddit – 17 hours 35 minutes (average 2 hours 30 minutes a day)
Time on Facebook – 3 hours (average 25 minutes a day)
Other –

I am disappointed that I couldn't go out, especially as Sammie came over to join me. At least we spent time together.
Johan has a reputation for being very fast in Running Ninjas, who were really nice about my plans to go cheer (and also disappointed that it didn't happen). That they'll let someone who can't even walk join shows how inclusive they are 🙂 
Have an agreement that when the Ninjas are next at our local park for park run I'll be going down to watch if I'm well enough. Sammie has also expressed interest in doing so (depending on if she can get there and stuff). I don't know when that'll be.
Johan is still super awesome. Sammie is also super awesome. I'm incredibly lucky 🙂
Game Stuff
Games played – 5

Animal Crossing: Pocket Camp
Cross Stitch
Neko Atsume
Godville
World of Warcraft

AC: Pocket Camp Level – 124
Godville Heroine Level – 58 (94% done)
Godville wood for ark – 40%
Godville savings – 1 million, 723 thousand
Cross stitch completed – 1
Most played game – Animal Crossing (17 hours, average 2 hours 25 minutes a day)
Other –

Finished the second half of the Bumbledrops event in a couple of days, and the extra stuff a day later. Was easy with as many active friends as I have.
Really enjoying doing older content as well as new in World of Warcraft, depending on my mood. Archaeology is fun as well. I think this will be the main game I play for a while.
I'm hoping they'll release new content for Neko Atsume soon. I'm only logging in once or twice a day right now to feed the cats and enter the daily password, as I've got all the mementos and such.
I bought Two Point Hospital for Johan. At some point I'll buy it for me as well, but right now I'm too busy with WoW 😛