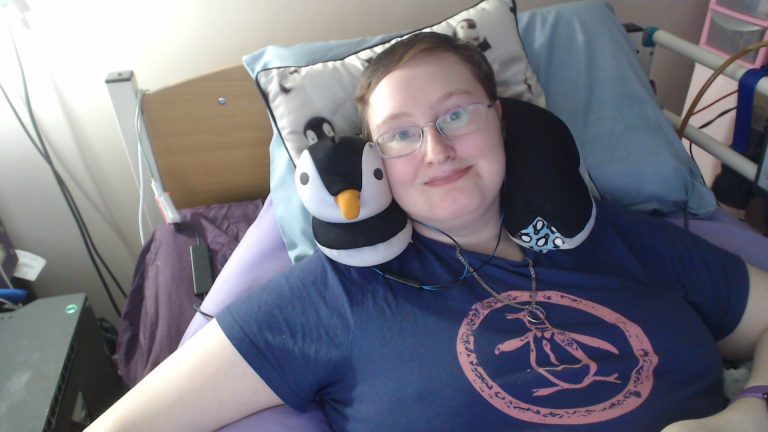 Colds are ebil. They both make me very tired and also stop me sleeping as long as I need due to blocked nose and sinus pain. Ibuprofen has been a big help this week.
This week was rough, not just because of the cold but also because the care agency didn't send me a rota so I didn't know who was coming. As each of my main care workers arrived, they did tell me when they'd be here which helped a bit, but it still wasn't great.
Monday I felt bleh but I watched YouTube videos and read some of my book on my Kindle (which I then dropped again). Johan got a new toy (DSLR camera) and took a terrible photo of me that he says makes me look really ill. I'm not sharing that one 😛 Tuesday I mostly slept.

On Wednesday I played World of Warcraft in the morning and then before sleeping I got out of bed! It was only for 5 minutes so Johan could change my sheet (as it's less painful that way than trying to do it with me in the bed) but it still counts! That evening I woke up again in time for the nice care workers so they changed the rest of my bedding for me so I had nice clean bedding to enjoy. that was definitely worth the spoons.
As Johan was having most of the week off, we'd decided a couple of weeks ago that Thursday we would cancel all the care calls and spend the day together. The initial plan was to go out somewhere, but the cold put an end to that idea. We then planned to watch a film, but on the day we couldn't decide on one to watch. So instead we watched a lot of the Edinburgh Zoo Penguin Cam, then put YouTube on to watch BBC 2 Idents and terrible infomercials. We also spent a lot of time just chatting, and not having to worry about when the care workers were going to come and how long until the next call made it a very good day. 
Friday, Saturday and Sunday are a bit of a blur, though I did play World of Warcraft when awake and with it enough, and also put lots of time into Animal Crossing on my tablet. I think I might slowly be starting to get over this cold as I'm not feeling quite as horrendous. I hope so as I've got plans and being asleep or out of it isn't one of them 😛 Ideally I want to go out for Guy Fawkes' Night in November to watch the fireworks, but we'll see.
Overall mood – Good and Awesome! High symptoms mostly because of the cold, but it seemed to be a bit better by the end of the week (less waking up unable to breathe at least).
Average daily sleep – 10 hours 10 minutes
Longest sleep – 17 hours 45 minutes, from Saturday evening to Sunday afternoon
Clothes changed – 1 (Navy penguin top)
Wipe wash – 1
Water wash – 0
Hair wash – 0
Books read – 1 (more This is True book 1)
TV watched  – 0
Streams watched – Lots of Penguin Cam
Youtube watched – Tons, mostly with Johan
Music listened to – Just the music in my head this week
Podcasts listened to – Episodes 55 and 56, and Bonus Episodes 1 and 2 of Welcome to Night Vale (while playing Animal Crossing as that was taking hours)
Blog posts written – 0 (felt too rubbish, but caught up now)
Penguins cuddled – Yes
Johan hand holds – Not enough
Johan hugs – 0
Time on Twitter – 11 hours 8 minutes (average 1 hour 35 minutes a day)
Time on Reddit – 24 hours 31 minutes (average 3 hours 30 minutes a day)
Time on Facebook – 30 minutes (average 4 minutes a day)
Other –

I apparently spent 6 hours 39 minutes on Reddit on Wednesday. I don't think I was actively using it that entire time, but based on what I was doing around some of those times I think I just forgot to close the app before resting. 
I have been getting hallucinations of people breaking into the flat, while I have sleep paralysis. This is terrifying. I figured out it was a combination of the vibrations of the air mattress machine on the end of my bed, and people in the communal hallway talking/opening doors/moving around, and normal sleep paralysis stuff. At least now I know this I can try and reduce the vibrations and reassure myself that no-one is breaking in.
My left hip is still playing up. Might need to see the doctor about it but I don't wanna. 
Johan is the best husband anyone could wish for. Except his complete disorganisation. That's annoying 😛
Gaming Stuff
Games played – 4

Animal Crossing: Pocket Camp

Neko Atsume
Godville
World of Warcraft

AC: Pocket Camp Level – 127
Godville Heroine Level – 59 (71% done)
Godville wood for ark – 43.1%
Godville savings – 1 million, 909 thousand
Cross stitch completed – 0
Most played game – World of Warcraft (17 hours 54 minutes, average 2 hours 33 minutes a day)
Other –

Finished the fishing event in Animal Crossing, then 4 new animals came out. Just got them invited to my camp when a new flower event came out. Sometimes I wish it would slow down a bit.
New animals meant I got a lot of levels this week. There's a robot frog!
New flower event is Halloween themed. This time we're collecting different types of bats. I just finished the first part on Sunday evening. The second part comes out on Tuesday.
In World of Warcraft on Wednesday I defeated the last boss I needed for Perma-Pepe. Now I can have a bird on my head whenever I want!
I also found Pepe in Dalaran and Boralus. I'm skipping the one in Zandalar until I can get the guts up to go into a Horde city.
Did the Arathi quests and rares. Got a few toys and mounts, which was cool.
Got archaeology to level 950 and 7th Legion reputation to exalted. Working on fishing next.