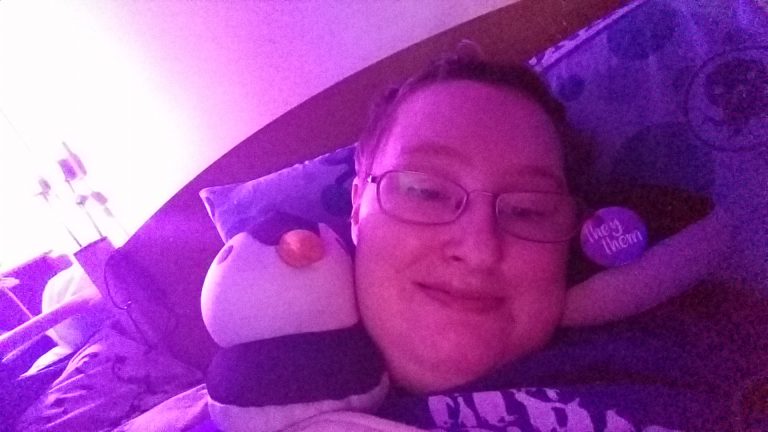 Overall a good but quiet week. Lots of sleeping and rest, and then playing Animal Crossing or World of Warcraft when well enough. I'm so happy to be able to play as much as I do.
I've been slowly working on being propped up more and supporting my own head. This was going pretty well and then I caught a cold. Johan had it as well so I suspect he got it while out and passed it on to me (he tried to blame Sammie but it had been too long since we saw her for it to have come from her). Despite him having a cold he ran 24 miles on Sunday. He can be a silly sausage sometimes.
Spoke to Sammie quite a bit, and also one of her friends at the weekend who asked me for help with homework for some reason. Then I got told I know a scary amount about blood. I knew that medical obsession as a teen would come in useful eventually 😛 There's some interesting stuff going on into artificial blood substitutes that are now on the GCSE syllabus which is cool. I had to look that stuff up because it didn't come up 16 years ago.
Had a weird problem where I couldn't get onto any of the This is True websites if I was on Virgin Media (home broadband) or Virgin Mobile, but I could access them from a VPN or Three (I currently have two contracts until I can figure out asking for a PAC without using the phone, but my phone takes two sim cards so it's not a big problem). I'm not sure what the problem was, but it got fixed after a few days. Hopefully it won't happen again as I really like those sites The newsletter is awesome as well – I've been a Premium subscriber for a while and it's definitely worth it as I can read the stories at my own pace.
Sunday 23rd September was Bi Visibility Day. I've known I'm bisexual (or pansexual, but either term works) for as long as I've been attracted to anyone, though I was told it was just a phase when I was a teen. It can be frustrating sometimes to have people automatically assume you're straight (though what a straight relationship would be when one person is genderless I'm not sure). I didn't really do anything for it, but I did take a photo so I could pretend I'm not invisible 😛 It was good to see people talking about it though, as some people insist that you can't be bi for some reason.
Overall mood – Good most of the week, awesome on Monday. High symptoms because of the cold I caught.
Average daily sleep – 11 hours 57 minutes
Longest sleep – 17 hours 40 minutes, from Saturday night to Sunday evening
Clothes changed – 1 (Penguin made of penguins)
Wipe wash – 1
Water wash – 0
Hair wash – 0
Books read – 0
TV watched  – 0
Streams watched – Method raiding and Trump (not the evil one) playing Hearthstone on Twitch
Youtube watched – Lots with Johan
Music listened to – Daughter of the Sea on repeat
Podcasts listened to – 0
Blog posts written – 2
Penguins cuddled – Mostly Nicky and Isabella as the others are explorinating
Johan hand holds – Daily
Johan hugs – Yes! I think we both needed it (I just wish it didn't hurt so much)
Time on Twitter – 10 hours 36 minutes (average 1 hour 30 minutes a day)
Time on Reddit – 9 hours 19 minutes (average 1 hour 19 minutes a day)
Time on Facebook – 1 hour 40 minutes (average 14 minutes a day)
Other –

Johan hugs are the best!
Johan made us steak on Monday. It was amazing. 
Colds are ebil. I hope it doesn't last too long.
Game Stuff
Games played – 5

Animal Crossing: Pocket Camp
Cross Stitch
Neko Atsume
Godville
World of Warcraft

AC: Pocket Camp Level – 124
Godville Heroine Level – 59 (43% done)
Godville wood for ark – 41.9%
Godville savings – 1 million, 837 thousand
Cross stitch completed – 0
Most played game – Animal Crossing Pocket Camp (12 hours 19 minutes, average 1 hour 45 minutes a day)
Other –

Less WoW this week because needing more sleep, but still played a bit.
Decided I needed to get Perma-Pepe (an orange bird that sits on your head). I managed to do nearly all the bosses, then discovered one wouldn't be up that week as it alternates with another. Until then, I have to get Pepe from my garrison every hour.
Wednesday was Pirate Day so did the activities for that.
When Warfronts were enabled for Alliance did them. No idea what I was doing but it was fun.
Finished the clam collecting event in Animal Crossing, and worked on the fishing event. That explains why it's my most played game this week (that and everything loads so slowly).
I'm hoping for a Neko Atsume update at some point as I'm mostly just collecting fish for when more content comes out.