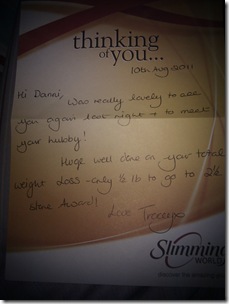 Got up when favourite carer arrived today, as had my housing medical assessment. Went on my computer for a bit, but spent most of the day in bed again.
I think the medical assessment went well. The woman who came understood what I wanted, and thinks it should be possible. I told her I wanted a bath rather than a shower because of my feet turning blue 😛 I've also been told to bid on anything that looks vaguely suitable, as they'll get an OT to assess whether it is before offering it to me.
I also received this lovely letter from my Slimming World consultant today 😀 I'm definitely glad I decided to go back.