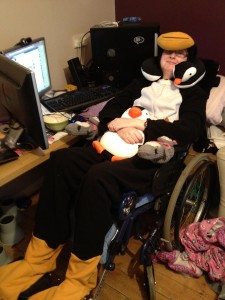 I just wrote a long blog post about World of Warcraft: Mists of Pandaria. Then I deleted it instead of saving it. As I'm on the Android app, rather than the website, that means it's gone (there was a delete confirmation, but I mixed them up and pressed yes rather than no). I'm making lots of these types of mistakes recently. Bah. I might rewrite it, I might not. The summary of it is I'm really enjoying it, and so happy I can play it and it's something I can do with Johan and my guild.
I'm having a lot of cognitive problems. It seems every time I relapse, I lose more cognitive ability, and up to now have not regained any of it. This was the worst one. It's a strange thing as it's inconsistent and unreliable. I've managed to read a couple of nonfiction books, but I can't remember much about them. I can't concentrate on a television show, so if I have it on at all it's basically reality television or old quiz shows. I want to watch Doctor Who but I can't follow the plot so get frustrated. I've been attempting my DLA form, but it's been making me worse cognitively and I'm scared it's going to lead to another relapse so I've asked someone who is good at forms to help me next week. Johan is having to take over the stuff I normally manage, like online food shopping. He's noticed I'm not able to concentrate on a conversation now.
My memory is shot to pieces. I get very confused, and that makes me scared. Most of the time I have no clue what day or time it is, even though I check constantly. I'm not even keeping up with Twitter which is normally easy for me. Yet I can manage playing WoW. It feels really strange that it's so inconsistent. It might be because they require different skills, and the ones I use for playing WoW aren't as badly affected as those I use for conversations or managing shopping. This may also be part of the mix of autism and M.E, as being able to use one skill but unable to use another seemingly related but different skill is common in autism, and for me has always been an issue, and the M.E is making it worse by affecting pretty much everything.
It is scary to feel stupid, especially when intelligence was previously one of my strengths. When the CFS team were here I told them I was having to ask Johan for really simple things, like what's 5 +7, as I can't figure it out myself. I've got a qualification in AS Maths – this used to be easy for me. There's not much the CFS team can really do- if it continues to be a major issue they can do testing, but they're worried that'll be too exhausting, since even short conversations can take everything out of me. The physiotherapist has written a really supportive letter for my DLA claim though, which should back up what I'm saying. It's hard seeing it down on paper though just how disabled I really am- even though I live it, and try to blog about it, to see someone else writing about how I require Johan to support me in everything, how I've been bedbound much of the time- it's confirmation and it's scary.
My mental health isn't great at the moment. I'm not depressed, but emotionally I'm not coping as well as I can be, and I'm getting a lot of flashbacks from things from the past that are very scary. Overall my mood isn't too bad, and I'm still mostly positive and happy, but it does get me down, especially the confusion and the flashbacks. Late night/early morning still tends to be my best times, though Johan does need to sleep and I really want to try and be on a decent sleeping pattern. I can't force it though.
I now have the care call system set up. They tried to do the annual check and discovered it wasn't connected, though we've been paying for it since we moved in. There were lots of problems, and the beeps and the loudness of it made me feel very ill while they were trying to sort it out, and I ended up needing an anti nausea tablet that through my sleeping pattern off completely. It's sorted now but we do need to ask them things, like what exactly do we use it for (we're autistic, so things that may be obvious to other people aren't necessarily to us and we'd feel better if we're told) and can they make the random courtesy calls less random please, as they make me panic. We also have some information we think it's important they have, like I can be non-verbal. It is good though as it means we'll both feel better if Johan goes out as if something happens I can press the button and they can contact an ambulance or whatever for me. It's also connected to the fire alarm, so if it goes off they can contact the fire brigade. It also means if something happens to Johan, I can use it to summon help.
Good things though- I can play World of Warcraft. I'm looking forward to Halloween, where I'm going to be a fairy penguin princess 🙂 I'm wanting to see fireworks- either the official display if I'm well enough to go out, or watching from Johan's window if I'm not (he's got an amazing view right across the valley from his window- I get my tree from mine :P). I have a penguin onesie- completely impractical but I love it (and even saw the CFS team wearing it). I can eat solid food. I can sometimes use my fork. My friend Vivacia Dreams sent me an awesome penguin hat. I'm hoping to have Sanabitur Anima visit me soon. I can read non fiction. I'm not in relapse. I'm very very lucky 🙂