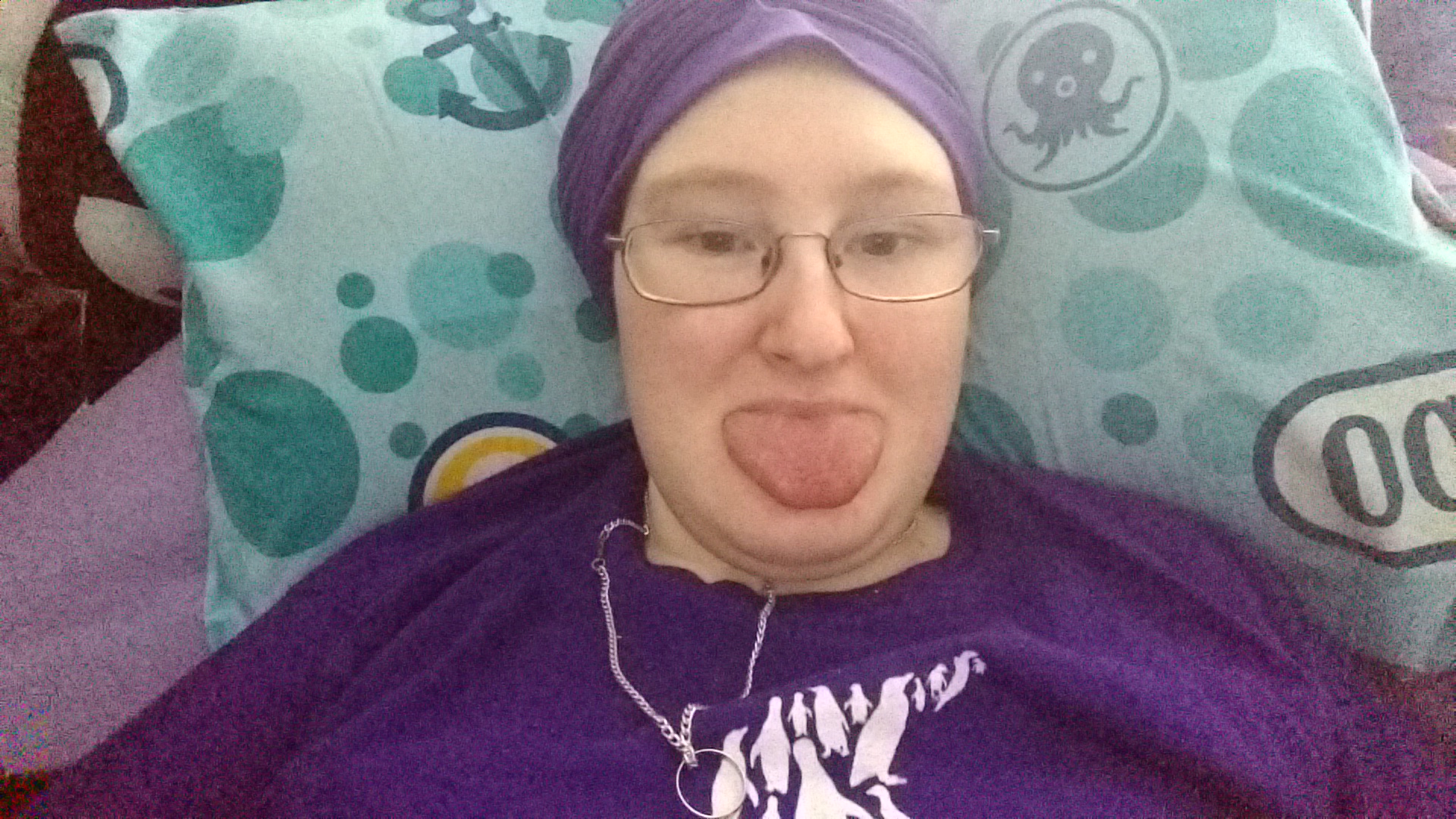 A day late because I slept most of yesterday and then all night. Monday was okay, but then on Tuesday I got a migraine and that wiped me out for a couple of days, though I did manage to watch the super blue blood moon on NASA's YouTube channel on Wednesday. On Thursday a new event came out in Animal Crossing Pocket Camp, and since then I've been mostly playing that, looking at cute things on Reddit, and sleeping.
Tomorrow (Tuesday) is my PIP tribunal, so I'm preparing for that now. I'm scared but hopeful. Johan will be there as my appointee, and hopefully a friend as well for support. It'll be the first time I'm out of the flat since September.
Overall mood – Good (not even a migraine can upset me for too long)
Average daily sleep – 7 hours 58 minutes (of 11 hours 15 minutes)
Longest sleep – 11 hours 46 minutes on Monday (of 16 hours 33 minutes)
Clothes changed – 2 (Space Penguins, then Penguin made of Penguins 🐧, both due to accidents)
Wipe wash – 1 (had a quick one when changing the first top)
Water wash – 0
Hair wash – 1, with shampoo cap
Books read – 0
TV watched – 0
YouTube videos watched – 1 (Super Blue Blood Moon streamed by NASA)
Music listened to – None
Blog posts written (including this) – 0 (as this is a day late)
Penguins cuddled – quite a few 🐧🐧🐧
Johan hand holds – not enough
Johan hugs – 0
Time on Twitter – 7 hours 41 minutes (average 1 hour 5 minutes a day)
Time on Reddit – 19 hours 35 minutes (average 2 hours 47 minutes a day)
Time on Facebook – 46 minutes (average 6 minutes a day)
Other –

Migraines are evil. I'm glad I can sleep through the worst after taking my meds though.
I found out there is a penguin galaxy! The Penguin and the Egg (NASA)
Penguins continue to be awesome. As do Johan, Sammie, and my friends.
Game stuff
Games played – 6

Animal Crossing: Pocket Camp
Cross Stitch
Neko Atsume
Godville
DragonVale
Loop

AC: Pocket Camp Level – 71
Godville Heroine Level – 48 (56% done)
Godville wood for ark – 5.0%
Godville savings – 281 thousand
Cross stitch completed – 2
Most played game – Animal Crossing: Pocket Camp (25 hours 19 minutes, average 3 hours 37 minutes a day)
Other –

Completed the first stage of the new event in Animal Crossing:Pocket Camp in two days. It's catching bats this time.
Had to make a spreadsheet to work out who had given me what bats, as my friends are really generous. Discovered I'd forgotten how to automate stuff in a spreadsheet, so am having to track things manually which takes time.
Figured out how to play Animal Crossing in landscape on my tablet, initially by accident. Wrote a guide on the subreddit but people keep missing a key step.
Dragonvale has a new event for Valentines. I've not played much of it though.