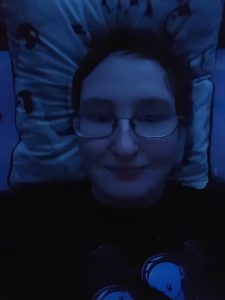 It's mostly been an uneventful week. Had flu jab on Tuesday, so have had a sore arm since (it's nearly better now), but otherwise not been up to much. I finally got over the payback from going out to the tribunal, and on Friday I was able to go on my desktop computer for the first time in months. Did a food shop and updated the spreadsheet tracking which carers I have. It took a lot longer than it should have done as I've forgotten how to do things like link to data in a different part of the spreadsheet.
I made the mistake on Saturday morning of attempting to change my own pad while Johan was out. This was a terrible idea and now I've got payback from that. I think I've learnt my lesson. Picture is a selfie taken while watching my projector, so the light was blue.
Overall mood – Good
Average daily sleep – 8 hours 50 minutes (of 9 hours 51 minutes)
Longest sleep – 9 hours 25 minutes from Tuesday evening to Wednesday morning (of 13 hours 11 minutes)
Clothes changed – 1 (space penguins and cat fleecy top)
Wipe wash – 1 (Johan helped)
Water wash – 0
Hair wash – 1 (with shower cap)
Books read – 0
TV watched – 0 (I prioritised going on puter)
YouTube videos watched – 5
Music listened to – Mr Voletron (U R Bad Toys!)
Blog posts written – 1
Penguins cuddled – Yes 🐧🐧🐧
Johan hand holds – Yes
Johan hugs – 0
Time on Twitter – 12 hours 28 minutes (average 1 hours 46 minutes a day)
Time on Reddit – 26 hours (average 3 hours 42 minutes a day)
Time on Facebook – 14 minutes (average 2 minutes a day)
Other –

Left my party in Habitica, and made my own. Want to do quests by myself for a bit.
Doing a food shop is exhausting, even when I'm on my computer so it automatically fills in forms and stuff.
Johan changed my bedding on Thursday! Currently have the My Little Pony set on.
It was half term so chatted to Sammie a bit. She's awesome.
Game stuff
Games played – 5

Animal Crossing: Pocket Camp
Cross Stitch
Neko Atsume
Godville
DragonVale

AC: Pocket Camp Level – 75
Godville Heroine Level – 49 (35% done)
Godville wood for ark – 7.3%
Godville savings – 382 thousand
Cross stitch completed – 2
Most played game – Animal Crossing: Pocket Camp (14 hours 4 minutes, average 2 hours a day)
Other –

New crystal event in Animal Crossing. Luckily it's just a collection event so I don't need to do much extra.
Got every dragon and egg in DragonVale again. Once the rose event is over I'll probably stop playing daily.
Bonus image: the cross stitch I was working on last week, completed. The text is amusing to me (your text here)