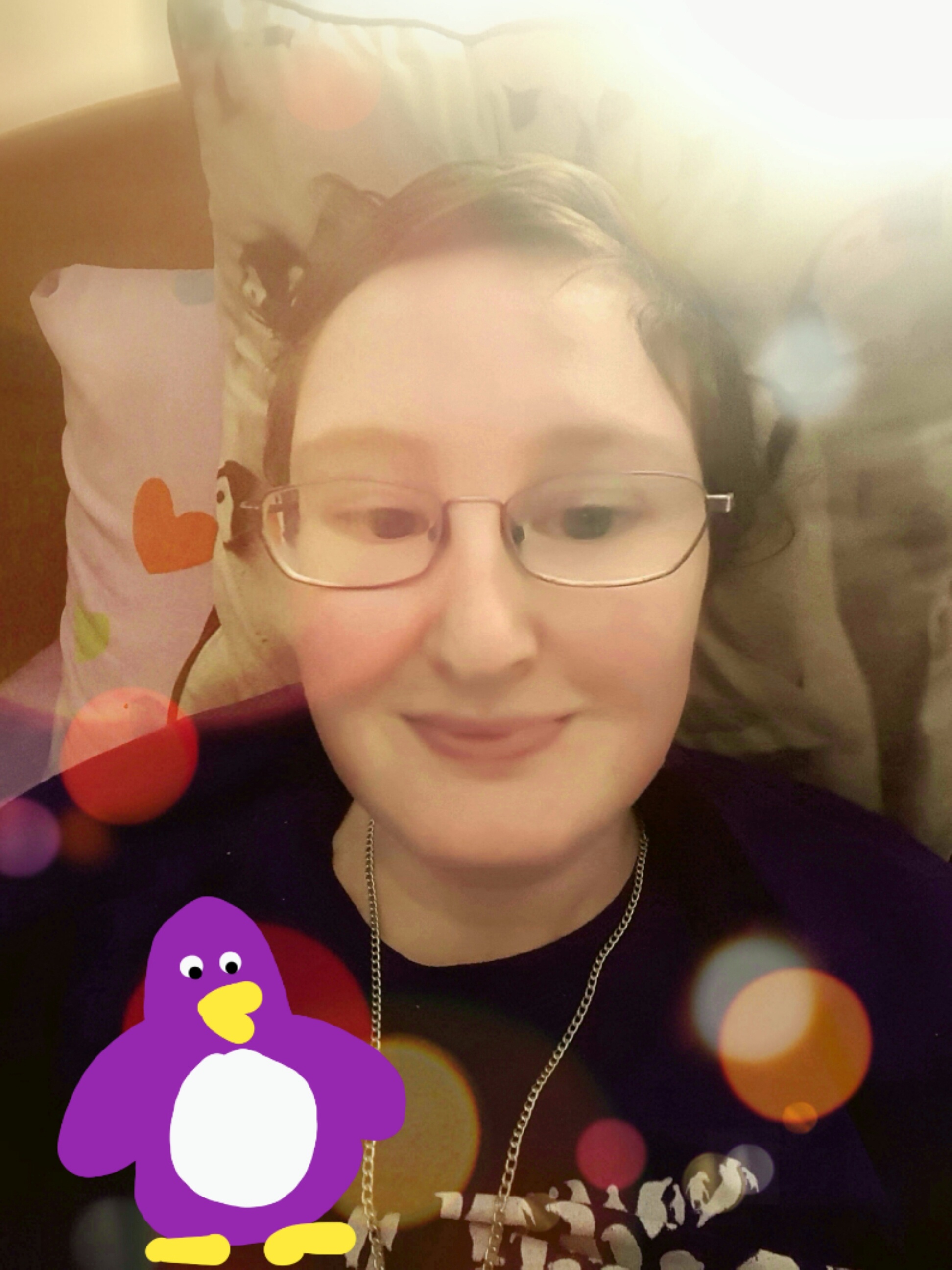 I forgot to take a photo last week, so took this one today and used the most extreme settings on various filters to see how it looked. Then I drew a penguin on it because penguins! 🐧
Last week was mixed. Some good stuff (going on the Surface and video chatting to Sammie, making a hexahexaflexagon) and some bad stuff (waking up to a strange care worker in my room when I'd been expecting a regular one and had no notice of the change, digestive system being so evil I couldn't be touched by the care workers during a call as was in too much pain).
The big news was I got my new PIP letter and the back payment of everything they owed me for the last year. I gave some to Johan as a Christmas/birthday present, cleared half of my credit card (0% interest so no point in clearing it all right now) and put half into savings. With the remainder, I bought a Nintendo Switch, some cool t-shirts and stickers, some disability stuff I'd been putting off and bought a celebration takeaway from Portofino in Newcastle, which was the best pasta I've ever had (tagliatelle carbonara). I still have some sitting in my bank account that I'm sure I'll find a good use for.
I have started work on trying to fix my blog. I'm not happy with the theme or the header image yet, but at least it's not throwing up errors now. I need to figure out getting the accessibility buttons to work properly as well. It's too difficult to do from my tablet so it'll be done in bits when I'm on the Surface or my puter.
I was finally well enough to catch up properly on some of my YouTube subscriptions, the ones without too much movement in the videos. I've got 3 months worth of videos to catch up with, so far managing three channels. I also rediscovered Vi Hart and made a hexahexaflexagon, which was an awesome stim toy until I ripped it. I need Johan to cut me out another template so I can make a new one. I want a cloth flexagon of some type, but I can't find any premade online so might need to find a crafty person to make me one.
I've started clearing out my chest of drawers, throwing away anything damaged and putting stuff I can't wear into a vacuum bag. The plan is to reorganise my drawers so the most used clothes (tops and nighties) are most accessible. I do need to get the cleaner to stop piling stuff around it so we can get into the drawers. I'm looking into finding someone to help me organise my bedroom, as though the cleaner is excellent at cleaning and okay at tidying, she is not good at organising or using space efficiently. It'll probably take an organised person an hour or two to sort in total, but it's finding that person. I did have a care worker who was excellent at it so I was going to ask her, but she's injured and I don't know when or if she'll be back at work.
This week we're expecting a lot of snow. Since that means I can't go out, I'm hoping if well enough to do something nice indoors, or even have a shower. We'll see if my body agrees.
Overall mood – Good
Average daily sleep – 8 hours 40 minutes (of 10 hours 54 minutes)
Longest sleep – 11 hours 4 minutes on Saturday (of 17 hours 35 minutes, after being awake 28 hours 30 minutes from Thursday evening)
Clothes changed – 1 (Penguin made of penguins 🐧)
Wipe wash – 1
Water wash – 0
Hair wash – 1 (shampoo cap)
Books read – 0
TV watched – 0
YouTube videos watched – Lots (Matt and Tom Park Bench, vlogbrothers, floppotron, Vi Hart)
Music listened to – Floppotron
Blog posts written – 1
Penguins cuddled – Yup 🐧🐧🐧
Johan hand holds – Several a day
Johan hugs – 0
Time on Twitter – 13 hours 52 minutes (average 1 hour 58 minutes a day)
Time on Reddit – 16 hours 25 minutes (average 2 hours 20 minutes a day)
Time on Facebook – 21 minutes (average 3 minutes a day)
Other –

PIP award letter and back payment came through!
Discovered the joys of flexagons, and how awesome hexahexaflexagon is to say.
Johan accidently dyed the washing purple. I now have purple penguin pillowcases.
Game stuff
Games played – 5

Animal Crossing: Pocket Camp
Cross Stitch
Neko Atsume
Godville
DragonVale

AC: Pocket Camp Level – 76
Godville Heroine Level – 49 (79% done)
Godville wood for ark – 8.7%
Godville savings – 412 thousand
Cross stitch completed – 3
Most played game – Animal Crossing: Pocket Camp (14 hours 4 minutes, average 2 hours a day)
Other –

DragonVale event has finished, so am now taking a break.
Animal Crossing has finished the crystal event.
I finished getting all the blue tulip items in Animal Crossing so now I'm concentrating on purple tulips.
I've yet to really try the Switch (have slept a lot since buying it) but I'm hoping to be able to play on it. If not, Johan will have to play for me.