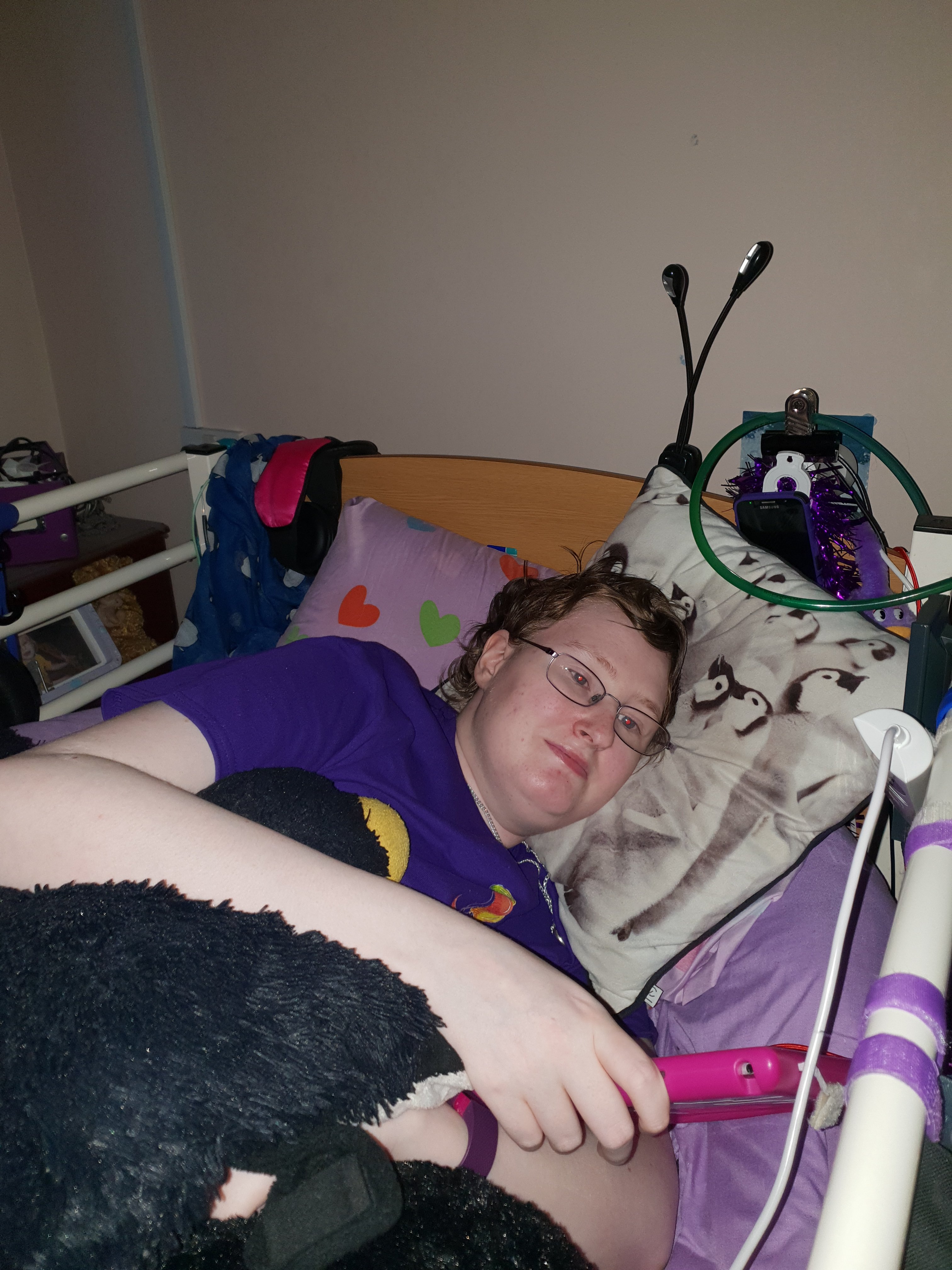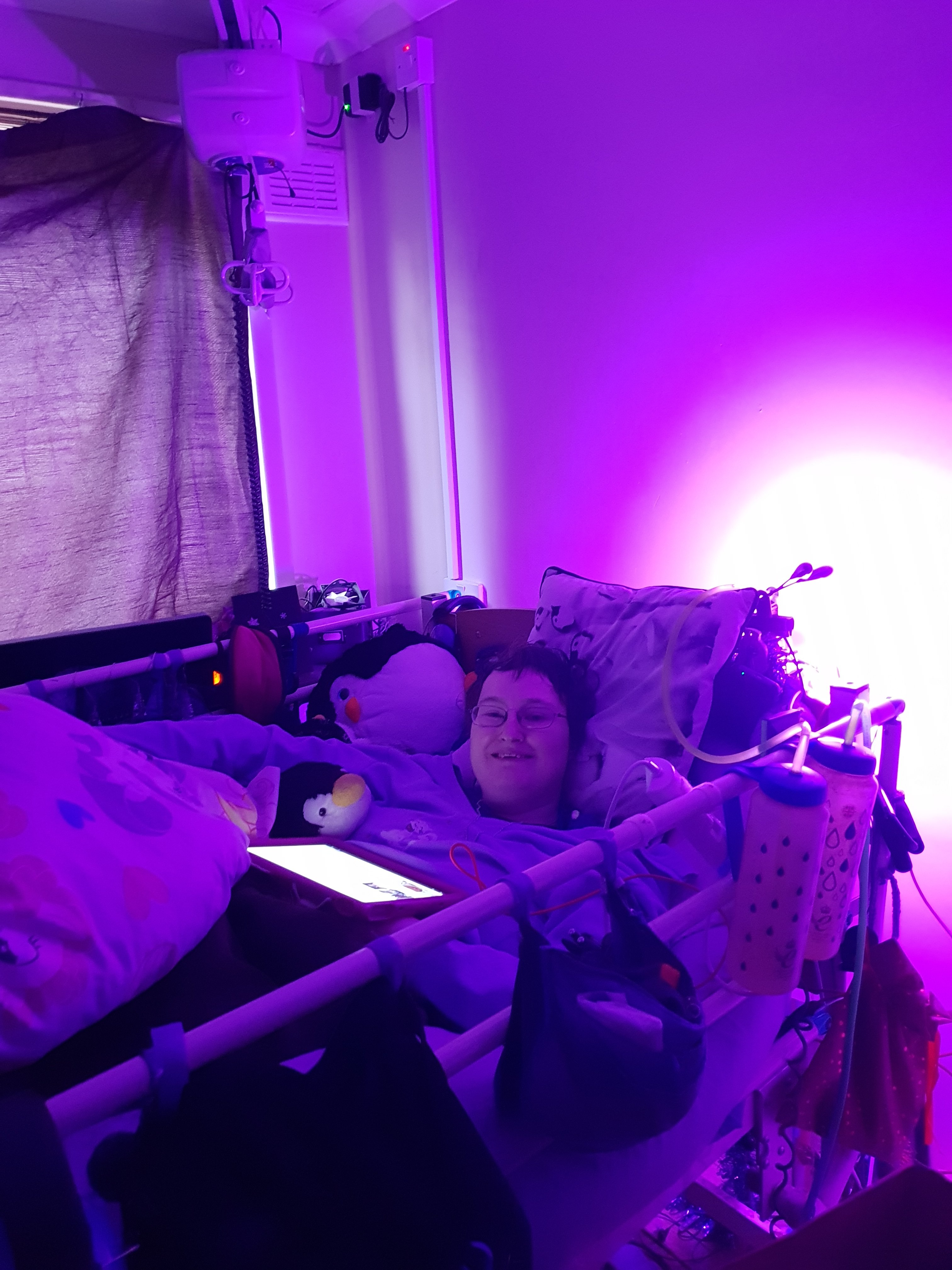 A week late due to not being very well. The week was rather mixed, with good bits and bad bits. Photos by Johan as he was testing his new phone camera – the first I'm feeling completely rubbish and the second a bit less rubbish and happy because of Sammie.
Good bits included Esther visiting, having pies for pie week, Sammie being awesome and spending time with Johan. Bad bits were mostly being more ill than normal, needing my antiemetic more than I usually do and having a lot of pain that was difficult to deal with. I also missed a CFS team visit as Johan forgot to put it in the calendar and I can't open the door.
Seeing Esther on the Saturday was awesome. She's moving next month so it'll probably be a while before I see her again, but it was a lot of fun talking to her and hearing her plans. I really hope everything goes well for her.
Sammie showed us some of her pictures, which I really like. She's definitely improving which is awesome. She sent me a present for Mothering Sunday which made me happy. I refused to open it on Saturday, but did so on Sunday and ended up crying with happiness as I loved it that much. I could tell she'd put a lot of thought into it. I'm really proud of her.
Overall mood – Good (a few mehs and an Awesome on Sunday)
Average daily sleep – 7 hours 25 minutes (of 9 hours 32 minutes)
Longest sleep – 12 hours 14 minutes from Friday evening to Saturday afternoon (of 17 hours 16 minutes)
Clothes changed – 1 (Purple t-shirt with penguin riding a dinosaur and cat fleece)
Wipe wash – 0
Water wash – 0
Hair wash – 0
Books read – 0
TV watched – 0
YouTube videos watched – 0
Streams watched – 0
Music listened to – 0
Blog posts written – 1
Penguins cuddled – indeed 🐧🐧🐧
Johan hand holds – yes
Johan hugs – nope
Time on Twitter – 11 hours 53 minutes (average 1 hour 41 minutes a day)
Time on Reddit – 16 hours 47 minutes (average 2 hours 23 minutes a day)
Time on Facebook – 1 hours 5 minutes (average 9 minutes a day)
Other –

Managed 3 meals on Monday. This was an achievement.
By Tuesday morning I was regretting it.
Needed extra meds a few times. I hate how I feel when I've taken them but it's preferable to being in intolerable pain and throwing up.
Had Esther handhold while she was here as not well enough for hug.
Game stuff
Games played – 5

Animal Crossing: Pocket Camp
Cross Stitch
DragonVale
Neko Atsume
Godville

AC: Pocket Camp Level – 80
Godville Heroine Level – 50 (46% done)
Godville wood for ark – 10.6%
Godville savings – 502 thousand
Cross stitch completed – 2
Most played game – Animal Crossing: Pocket Camp (15 hours 31 minutes, average 2 hours 13 minutes a day)
Other –

Finished the Animal Crossing ladybird event with a day to go. My in game friends are awesome.
New Easter event in DragonVale. I'm playing it every few days.
Swapped to Mother's Day cross stitch patterns for a bit.