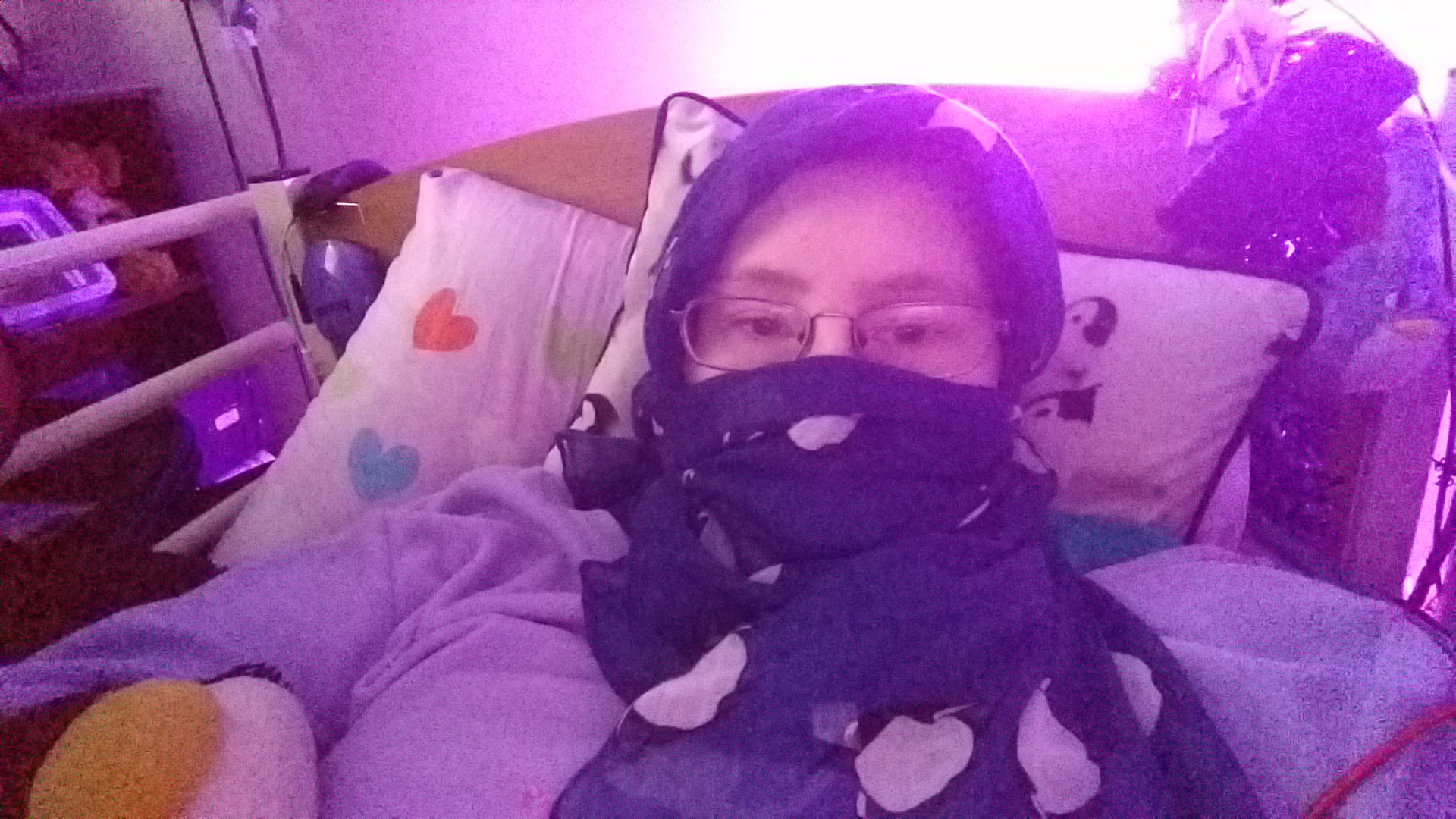 We got a lot of snow this week. I got my curtain pulled back so I could watch it falling, and it was very pretty. I had forgotten that my body really doesn't like the weather changing, so I've been extra fatigued and hurty all week. I was glad to stay in bed with my heated blanket and penguins. Photo is from Sunday, where I was feeling bleh so covered my head with my scarf. It helped a bit.
Wednesday wasn't good. Not only did the wrong care worker come for my lunchtime call, she was 40 minutes early and I hadn't been told it had changed. It took me years to be okay with the expected care worker being 15 minutes early, so this was too much. Ended up having a meltdown which was not good. She was also calling me lovey and honey which I hate even on a good day. One of the better care workers contacted the agency for me and told them I really need to be informed of all changes and that I didn't want that particular care worker again.
Afterwards I was really drained, but Sammie sent me pictures of a snow cat I asked her to make and I found an easier method to watch the Edinburgh Zoo penguin cam so I was okay again in the end, though it made me even more tired for a few days, and definitely ruined any chance of getting out off bed.
Still been trying to catch up with YouTube now I'm able to watch it, in between sleeping. Johan decided to go into Newcastle as normal because routine is good, and even went running in the snow a couple of times, once at night, because he's silly. During the early hours of Sunday morning I had a rather bad accident requiring a wash and bedding change among other things, and I've needed more help than normal in general so Johan really earned his £62.70. My first increased PIP payment came in so I actually feel it's real now. I bought a new purple Trabasack as despite having several they keep going missing when I need them. This one has a wipe clean surface so will be better for meals than the ones with the velcro top. I just need to figure out the best place to keep it so it doesn't go missing and people can grab it when I need it.
Next week I'm hoping my body will get back to normal, and overall things will be calmer. I especially hope I need less middle of the night changes (maybe I'll even sleep at night!).
Overall mood – Good, with a bad (Wednesday) and a meh (Sunday as I'd missed a dose of painkillers without realising)
Average daily sleep – 6 hours 50 minutes (of 9 hours 5 minutes)
Longest sleep – 9 hours 53 minutes from Saturday morning to early Sunday morning (of 14 hours 29 minutes)
Clothes changed – 1 (Zen Penguin's Guide to Hoppiness and cat fleece)
Wipe wash – 1
Water wash – 0
Hair wash – 0
Books read – The Wall (27%)
TV watched – 0
YouTube videos watched – Tom Scott, Vi Hart, vlogbrothers (I'm caught up on the most recent stuff)
Streams watched – Edinburgh Zoo Penguin Cam
Music listened to – Tangled Soundtrack
Blog posts written – 1
Penguins cuddled – yes 🐧🐧🐧
Johan hand holds – indeed
Johan hugs – nope
Time on Twitter – 10 hours 26 minutes (average 1 hour 29 minutes a day)
Time on Reddit – 20 hours 46 minutes (average 2 hours 58 minutes a day)
Time on Facebook – 2 hours 55 minutes (average 25 minutes a day)
Other –

Chatting online is fun but exhausting
Snow is pretty to watch
Penguins are always good
Game stuff
Games played – 4

Animal Crossing: Pocket Camp
Cross Stitch
Neko Atsume
Godville

AC: Pocket Camp Level – 78
Godville Heroine Level – 50 (15% done)
Godville wood for ark – 9.6%
Godville savings – 457 thousand
Cross stitch completed – 2
Most played game – Animal Crossing: Pocket Camp (18 hours 35 minutes, average 2 hours 39 minutes a day)
Other –

There's another flower event in Animal Crossing. This one involves catching ladybirds.
I have the same problem as I normally do of people sharing lots of ladybirds with me but I'm not able up to share them all back as there are too many people.
I completed the first part of the event. I'm not sure if I'll be able to complete the second part without using leaf tickets (premium currency) but waiting until the last day to be sure.
I have added a new part to my spreadsheet to track ladybirds. I wish I could remember how to use conditional formatting and better formulas.
My Godville Heroine is 1 year old! Definitely the best game when I'm not well.