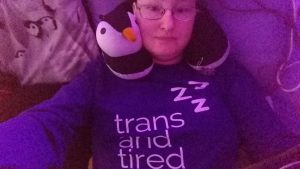 I remembered to take a photo! I was rather tired so the top was accurate 🙂
This week I was mostly recovering from going out last week. Lots of sleep, lots of lying in bed not moving as it was too exhausting and painful, but as it was expected it was mostly okay.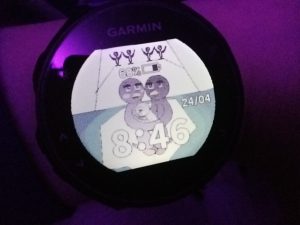 On Monday I bought a new fitness watch. I decided to get the Garmin Forerunner 235 mostly because Johan had one and it seemed to fit my requirements. For heart rate tracking it's much better than the Fitbit Charge HR (or Charge 2), actually noticing when my heart rate is all over the place rather than averaging it out. I love being able to change the watch face and being able to install apps on it to do various things. The downside is that it's not as good at tracking sleep, probably because I don't get up when I'm awake. I've tried using Sleep as Android with it which is a bit better, but it still records me being in deep sleep sometimes when I'm actually awake. If needs be I can go in and look at the movement, heart rate and noise data to work out when I was awake, but for my blog I'm just going to record the hours I'm asleep as it's not as easy as the FitBit. The watch face uses a picture Sammie made me which I love 🙂
I had to call Johan home a few times because of my digestive system being evil, to the point where he's now asking the care agency for an extra call in the afternoon, taking some time from my evening call as the evening care workers are too efficient 😛 I'll probably need to rethink times when I'm well enough for regular showers, but that doesn't seem likely for a while so the extra call will be more useful.
I was a bit grumpy at the weekend. Didn't realise for a while but it turned out I had a migraine (how I missed not being able to see properly out of one eye I don't know, but it happened). Luckily once we figured it out Johan dosed me up on meds and after a couple of days I was okay, just drained.
When I was awake, I managed to finish one book and start another, complete a couple of cross stitch patterns on the app, and also listen to some music. The official soundtrack for Vostok Inc. has finally been released, and I've listened to track 4, Rainbows and Unicorns, quite a bit. It's my favourite music from the game and makes me happy 🙂 The Soundcloud page is https://soundcloud.com/nosebleedinteractive.
Hopefully I won't get as far behind in these blog posts again. Maybe one day I'll even post something different 😛
Overall mood – Good, with a few Mehs when I had the migraine.
Average daily sleep – 10 hours 25 minutes (how much is real, I don't know :P)
Longest sleep – 15 hours 32 minutes from Wednesday early morning to Wednesday evening.
Clothes changed – 0
Wipe wash – 0
Water wash – 0
Hair wash – 0 (need to give my scalp a scrub as soon as I'm well enough)
Books read – 3 (Finished Shatter Me, finished Destroy Me and started The Miracle Inspector)
TV watched – Liverpool against Roma as they were scoring a lot of goals.
YouTube videos watched – Tom Scott, Vi Hart and Physics Girl
Streams watched – Penguin Cam
Music listened to – Rainbows and Unicorns from Vostok Inc. OST
Blog posts written – 3 (got caught up)
Penguins cuddled – yes 🐧🐧🐧
Johan hand holds – needed
Johan hugs – nope
Time on Twitter – 6 hours 14 minutes (average 53 minutes a day)
Time on Reddit – 14 hours 16 minutes (average 2 hours 2 minutes a day)
Time on Facebook – 1 hours 59 minutes (average 17 minutes a day)
Other –

I'm glad reading is a bit easier at the moment. Having a Kindle with changeable font size is awesome.
Destroy Me was a lot harder to get hold of than I was expecting, but I really wanted to read it after finishing Shatter Me.
I wish my digestive system would decide what it's doing. Swapping between constipation and diarrhoea makes it really hard to work out what's best to do.
New care workers are hard work, but I'm glad I now have an information book to give them.
Game stuff
Games played – 5

Animal Crossing: Pocket Camp
Cross Stitch
Neko Atsume
Godville
Bury Me, My Love

AC: Pocket Camp Level – 93
Godville Heroine Level – 52 (71% done)
Godville wood for ark – 19.4%
Godville savings – 773 thousand
Cross stitch completed – 2
Most played game – Animal Crossing: Pocket Camp (7 hours 37 minutes, average 59 minutes a day)
Other –

New animals in Animal Crossing make it much easier to gain level (though the max level also goes up with them).
The current event (other than fortune cookies which I'm mostly ignoring) is Gyroidite Gathering. They're not exactly well hidden and I've already crafted all the items that use them.
Bury Me, My Love is an interactive story where you're the husband of a Syrian woman escaping to Europe as a refugee. The title is based off a Syrian saying, which pretty much means "don't die before me". It's rather emotional and I like the semi-real time play style.