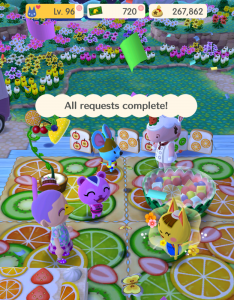 Forgot to take a photo (or have one taken) but I screenshotted completing the last flower event so it's virtual me.
Had a good week. Mostly watching YouTube videos and Eurovision (both semi finals and the final). Overdid it a bit watching Eurovision but the payback is worth it (though led to this post being rather late). I enjoyed most of the performances during Eurovision, and didn't have a specific favourite, but was okay with the results. Surie did amazing during the stage invasion and I agree she didn't need to perform again. Johan was hoping for Moldova to win, and I think they had the best stage performance. We're both concerned about the competition being in Jerusalem next year, and think it should be in Tel Aviv instead.
I couldn't feel my feet properly on the Saturday, so I took advantage of it and asked Johan to help me get some of the buildup of dry skin off my feet (the care workers are so scared of hurting me they don't use any force, so I end up with yellow hard patches as I'm not well enough to wash regularly). It feels so much nicer to have it all removed. Next up is all the dry skin on my scalp, but that tends to be more sensitive. I'm hoping to get at it before my hair grows too long.
Wheelchair is still not fixed as the wheelchair fixy people are struggling to find the right parts. Hopefully we'll hear back from them soon. I've not really been well enough to go out anyway, especially with watching Eurovision.
Overall mood – Good
Average daily sleep – 11 hours  3 minutes
Longest sleep – 14 hours 57 minutes from Sunday morning to Sunday evening (Deep Sleep 59%)
Clothes changed – 1 (Space Rhino from Vostok Inc.)
Wipe wash – 1
Water wash – 1 (feet only)
Hair wash – 0
Books read – 1 (Started Operation Hail Storm)
TV watched – Eurovision (both semis and the final)
YouTube videos watched – Mr Puzzle and Tom Scott
Streams watched – 0
Music listened to – Rainbows and Unicorns, Hank Green
Blog posts written – 1
Penguins cuddled – Mostly Phoebe and Nicky, but some Poseidon and Primrose 🐧🐧🐧
Johan hand holds – Yes!
Johan hugs – nope
Time on Twitter – 7 hours 35 minutes (average 1 hour 5 minutes a day)
Time on Reddit – 11 hours 52 minutes (average 1 hours 41 minutes a day)
Time on Facebook – 36 minutes (average 5 minutes a day)
Other –

Managed to feed myself with a spoon. Result was a less functional hand the next day. Whoops.
Banana sammiches are yummy. Had them a few times.
Mini stroopwafels are the best.
Smelly care workers are not good for Danni at all. Triggering an allergic reaction is impressive since I take a daily antihistamine, but really unpleasant. Johan has asked for her not to be sent again but has yet to get a response back.
Game stuff
Games played – 4

Animal Crossing: Pocket Camp
Cross Stitch
Neko Atsume
Godville

AC: Pocket Camp Level – 96
Godville Heroine Level – 53 (37% done)
Godville wood for ark – 21.4%
Godville savings – 883 thousand
Cross stitch completed – 1
Most played game – Animal Crossing: Pocket Camp (9 hours 12 minutes, average 1 hour 18 minutes a day)
Other –

Spent lots of time on Animal Crossing to finish the event. Did so with about half a day left.
Didn't play much of other games due to using all my energy on Eurovision.