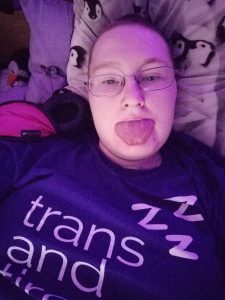 I remembered to take a photo! I was rather tired but feeling silly.
This week I figured out how to listen to podcasts, and even understand them 😀 It's a three stage process but it works for me.
Listen to the podcast on a speaker (currently my Google Home Mini). This is less overwhelming than on headphones.
Do something on my tablet that doesn't involve language, such as cross stitch. This is to distract my brain from the auditory hallucinations that usually prevent me from hearing what I'm listening to properly.
After the podcast episode has ended, go read the transcript so I can understand what was happening and see what I missed. It sometimes takes a few reads but it does go in eventually.
I've spent a lot of time this week listening to Welcome to Night Vale, which is the podcast I've been wanting to listen to since I first heard of it. I'm really enjoying it, and have also got Johan listening to it. Only problem is I'm a bit ahead of him so I'm having to try and remember what would be spoiling him 😛
Bodywise it's been a mixed week. Still no sign of an actual sleeping pattern, and had more digestive issues than my normal which isn't fun. Johan has also had a mixed week, mostly because he had to fill in my ESA50 form (explaining that I'm not well enough to work so we keep getting money) and it made his brain break. On the upside, he ran the Pier to Pier race and did really well, then stayed out with his friends until the evening as I'd gone to sleep.
Wheelchair fixy person came out to look at my wheelchair, and has taken the broken bit with him in an attempt to find a matching part. Not heard back from him yet, but I'm hoping he'll be successful as I'm hoping to get out of bed soon, especially as the weather is getting nicer.
I started having the new afternoon care call this week, so I don't have to call Johan home as early unless something goes wrong. It's the first time the care workers are giving me medication, which is fun as I try to describe which ones I need (as technically my tramadol is as needed, so doesn't go in a dosset box). I'm thinking of asking Johan to put it in my pill box so it's easier for both of us, especially when I need my antiemetic as small round white pills are hard to tell apart and the writing on the blister packs is very small.
The calls seem to be working, though I had a new care worker who hadn't been told I don't cope with them being early (I can just about cope with up to 15 minutes before the call time, she arrived 20 minutes before) so I ended up panicking, but luckily Johan was in at the time so he explained things to her and helped sort me out afterwards.
Friday was four years since the last time I stood up (and took three wobbly steps with a zimmer frame). I was really hopeful that it was the start of improving, but I ended up getting worse again soon afterwards. Between that and the ESA50 form, where Johan ended up telling me I'm doing worse now than I was last time, it's been a little hard realising how long I've been ill for and that I've not really improved. I have stabilised a bit, as though I still get payback in general I spend less time paralysed and can usually manage to chew solid food, so except during relapses I don't get quite as bad. I suspect not having noisy neighbours helps a lot with that as I can mostly rest when I need to. It hasn't really affected my mood, just made me think.
Bought a new wrist support as floppiness was getting really annoying, after asking for suggestions on Twitter. It definitely seems to be helping, and on a good hand day I'm going to see if I can use it with cutlery to feed myself without making it harder the next day. Here's hoping.
Overall mood – Good
Average daily sleep – 10 hours 1 minutes
Longest sleep – 17 hours 42 minutes from Friday morning to Saturday morning (62% deep sleep)
Clothes changed – 1 (Trans and Tired)
Wipe wash – 1
Water wash – 0
Hair wash – 0
Books read – 1 (Continued Operation Hail Storm)
TV watched – 0
YouTube videos watched – 0
Streams watched – 0
Music listened to – Rainbows and Unicorns
Podcasts listened to – Welcome to Night Vale (Episodes 1 – 20)
Blog posts written – 1
Penguins cuddled – Yes 🐧🐧🐧
Johan hand holds – Lots demanded and received
Johan hugs – nope
Time on Twitter – 3 hours 35 minutes (average 30 minutes a day)
Time on Reddit – 23 hours 32 minutes (average 3 hours 21 minutes a day)
Time on Facebook – 25 minutes (average 3 minutes a day)
Other –

Sorted out the bags on my bed rails. Somehow managed to get a full carrier bag of rubbish out of them. Hopefully this will stop me losing things quite as much.
Finally got around to plugging in the electric blanket on the other side of the bed. Not being strangled by the cable when having personal care is good.
Having a default list of meals came in handy when Johan's brain broked. I was able to order him food from McDonalds without him having to decide.
Sammie is awesome. She made curry and invited us to eat it. If only we weren't so far away.
My phone decided it wanted to become a balloon, so I had to stop using it. Johan gave me his old Oneplus 3 instead, which I used to take the photo.
Game stuff
Games played – 5

Animal Crossing: Pocket Camp
Cross Stitch
DragonVale
Neko Atsume
Godville

AC: Pocket Camp Level – 99
Godville Heroine Level – 53 (73% done)
Godville wood for ark – 22.1%
Godville savings – 917 thousand
Cross stitch completed – 5 (easy to do when listening to podcasts at the same time)
Most played game – Cross Stitch (9 hours 7 minutes, average 1 hour 18 minutes a day)
Other –

New animals in Animal Crossing and a new fishing event. Managed to do most of the fishing event on the first day as couldn't sleep.
Added random stuff to my Animal Crossing spreadsheet as I like doing data entry. Currently working on how many of each type of clothing I have.