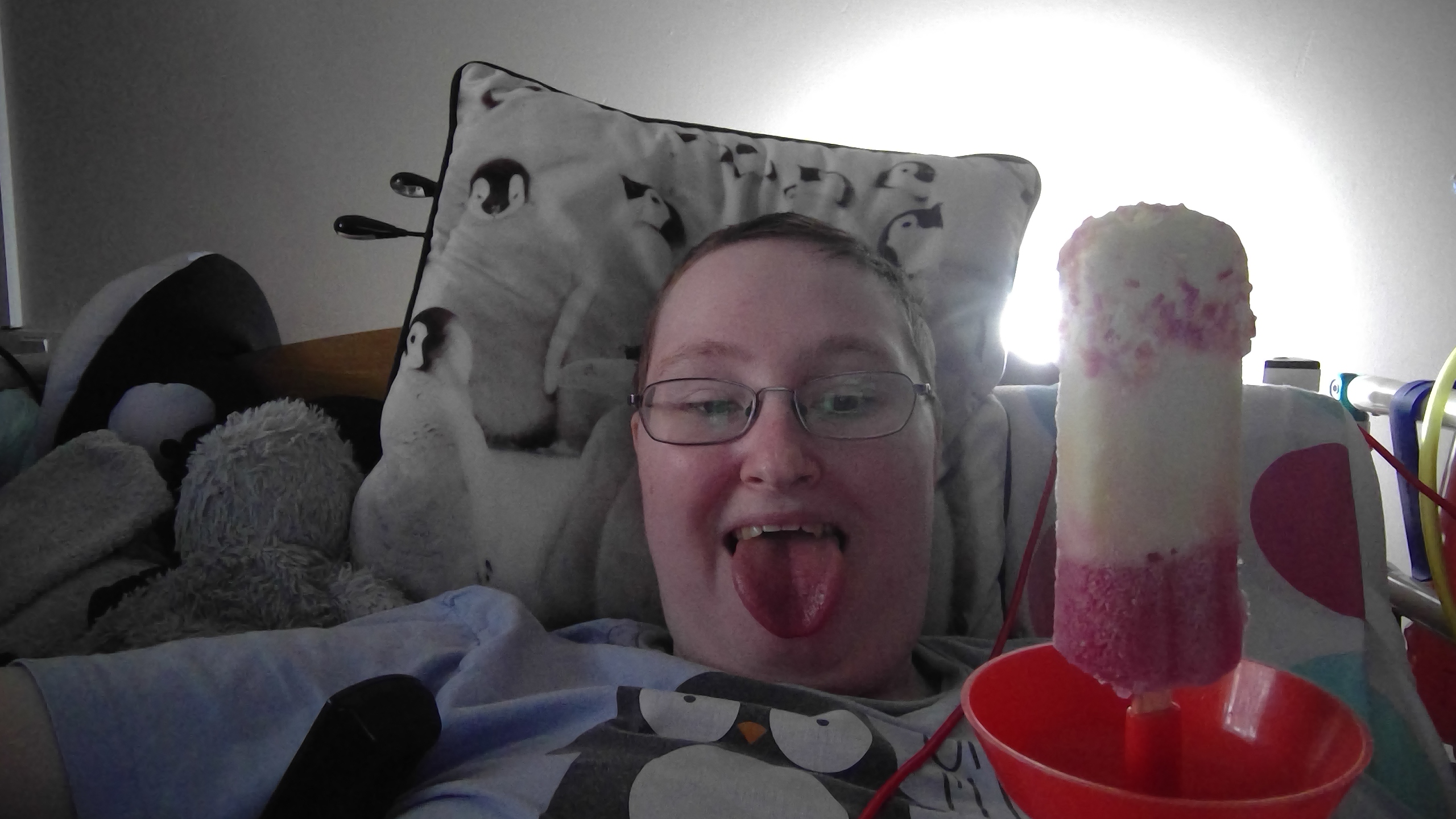 I remembered to take a photo this week! I was talking to Sammie and Johan while on the Surface and took this photo to show off my ice lolly. It made sense in context.
This week has been really hot. Luckily my bedroom is sheltered from the sun, so I've been fine with just my window open (and ear plugs to cope with the increased noise). I do have a fan but I've not needed it yet.
Health-wise it's been an up and down week. Other than a couple of migraines (I think I might need to investigate why they're becoming more common) I've not been too bad so long as I don't move much. By the end of the week I could even move a bit without agony, which was great. The migraines were not fun though, and I also had sleep paralysis that meant I needed Johan to come home early as I couldn't move while the carer was here.
As I was okay with light and sound for me, I watched a lot of stuff on the telly. Mostly football, but also some YouTube videos. I'm happy that England got through to the semi finals of the World Cup, though as Sweden were my second team I was a bit sad they lost. The other games I mostly had on in the background while working on other stuff, as I wasn't as invested in them.
Most of the good stuff of the week happened at the end of it. The big one is on Saturday I saw Sammie! She is towering over Johan now, and if she's not as tall as me yet then it won't be long. She came over as Johan was taking her to a gaming exhibition in Newcastle that is there as part of the Great Exhibition of the North. They both said they enjoyed it, and I gave Johan some money so they could get food afterwards. I would have liked to go myself, but I wasn't well enough.
The current idea is for Johan to take Sammie to other places I would if I were well enough, especially the more active ones, but I hope to join them for the more accessible outings if well enough. Will need to check with everyone involved first, and Johan is off to Sweden in a couple of weeks so we'll look into it more when he gets back.
We got a brown envelope of doom from the DWP, but luckily it was a positive one: I'm staying in the ESA support group without needing a work capability assessment. I didn't see the form Johan filled in (as he's my appointee and it's too much for me) but he must have done a good job. My money is sorted at least for now, which is a big relief.
Sunday morning Johan ran the Great North 10K, and even though it was really hot he ran a personal best, finishing in less than 41 minutes and coming 77th out of 4487 finishers. He's really happy and I'm very proud of him. There was also a picture of the Running Ninjas on the local newspaper website that was awesome. I was recovering from Saturday so he was able to stay out with his friends for a bit afterwards (the afternoon care call helps with that).
I spent some time this week working on adapting my care instruction book for when I'm in the care home. Unfortunately the care home we hoped I'd go to hasn't confirmed they have the room for me yet, so I'm getting nervous as I'm meant to be going in just over a week. If they can't take me I have a couple of alternatives we can ask, but they're a bit further away which isn't great for me. I'm sure it'll get sorted in time, I just don't like the uncertainty.
Next week is mostly going to be preparing for going into the care home and Johan going to Sweden. Johan has joined a group to do Relay for Life at the weekend but we don't know what times yet (he can't stay all day because of me). There's also more football which I'm looking forward to, especially the England game.
Overall mood – Good/Awesome at the weekend. Mixture of high and normal symptoms depending on the day.
Average daily sleep – 10 hours 11 minutes
Longest sleep – 14 hours 41 minutes from Wednesday morning to Wednesday afternoon (deep sleep 64%)
Clothes changed – 2 (One Day I'll Take Over The Planet penguin top on Monday, Zen penguin's guide to hoppiness and purple loose trousers on Saturday)
Wipe wash – 2
Water wash – 0
Hair wash – 0
Books read – 0
TV watched – Lots of football
YouTube videos watched – Tom Scott, Jessica Out of the Closet, vlogbrothers, hankschannel, Mr Puzzle and standupmaths.
Streams watched – Rockhopper Penguin Cam
Music listened to – None deliberately, but I heard a lot of Three Lions being sung.
Podcasts listened to – 0
Blog posts written – 1
Penguins cuddled – Yes 🐧🐧🐧
Johan hand holds – Dozens
Johan hugs – 0, but 2 Sammie hugs!
Time on Twitter – 6 hours 10 minutes (average 52 minutes a day)
Time on Reddit – 28 hours (average 4 hours 1 minute a day)
Time on Facebook – 26 minutes (average 3 minutes a day)
Other –

My bed has been fixed! Just had the controller replaced and a lock added so the carers can't pull it out again.
New upstairs neighbours get very shouty sometimes. I do not like. I was hoping we were over that after the last shouty neighbours were gone (though I don't want them murdered).
Sammie is super awesome! She had a "rant" about how much she loves her family. It was amazing.
Game stuff
Games played – 4

Animal Crossing: Pocket Camp
Cross Stitch
Neko Atsume
Godville

AC: Pocket Camp Level – 111
Godville Heroine Level – 56 (11% done)
Godville wood for ark – 30.9%
Godville savings – 1 million, 281 thousand
Cross stitch completed – 0
Most played game – Animal Crossing Pocket Camp (13 hours 41 minutes, average 1 hour 57 minutes a day)
Other –

I keep meaning to do more cross stitch but forgetting. Maybe this week.
Just managed to get the gold fishing trophy in Animal Crossing but didn't complete it.
There was a big update in Animal Crossing. Now animals can get to level 25. There are also some UI changes that make things a bit easier but I still need my spreadsheet to track things.
New flower event started on Friday. This time it's collecting Dappledots from sunflowers. I'm doing okay with it, but the second half is usually much harder.