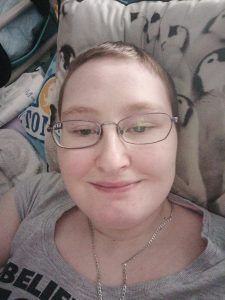 I had a proper hair wash so celebrated with a photo 🙂
Was mostly a good week. Was still on a high from seeing Sammie, and when I was awake I felt up to watching lots of stuff, like football, Netflix and YouTube. I had some anxiety as the care home for respite didn't get sorted out until Thursday, and I was struggling to modify my care information booklet to make it suitable for staying there instead of having home carers (as they'll need to do more stuff and they don't need to be at set times with 24 hour staff).
Was a little annoying that I felt up to going out and doing things but I needed to save my energy for travelling to the care home. On the Monday though I had a hug from Johan, which was well worth the pain it caused.
Overall mood – Awesome/Good, mostly normal level of symptoms
Average daily sleep – 9 hours 17 minutes
Longest sleep – 15 hours 41 minutes from Saturday morning to Sunday morning (deep sleep 61%)
Clothes changed – 1
Wipe wash – 0
Water wash – 0
Hair wash – 1 (and it was a proper one with water and shampoo!)
Books read – Started This is True book 1
TV watched – Lots, including football (France beating Belgium, Croatia beating England), Steven Universe and Ultimate Beastmaster on Netflix
YouTube videos watched – Too many to list
Streams watched – Playerunknown's Battlegrounds and Fortnite on Twitch and Rockhopper Penguin Cam
Music listened to –0
Podcasts listened to – Welcome to Night Vale episodes 40 and 41
Blog posts written – 1
Penguins cuddled –  Yes 🐧🐧🐧
Johan hand holds – Lots
Johan hugs – Yes! A big one on Monday!
Time on Twitter – 2 hours 5 minutes (average 17 minutes a day)
Time on Reddit – 18 hours 10 minutes (average 2 hours 35 minute a day)
Time on Facebook – 9 minutes (average 1 minute a day)
Other –

Really happy to be well enough to watch stuff again. I have a lot to catch up on.
Johan hugs are awesome.
Game stuff
Games played – 4

Animal Crossing: Pocket Camp
Cross Stitch
Neko Atsume
Godville

AC: Pocket Camp Level – 112
Godville Heroine Level – 56 (42% done)
Godville wood for ark – 31.7%
Godville savings – 1 million, 332 thousand
Cross stitch completed – 1
Most played game – Animal Crossing Pocket Camp (25 hours 6 minutes, average 3 hours 35 minutes a day)
Other –

Played a ton of Animal Crossing to complete the Dappledot event. Managed to do so a day early.
Tried to return as many Dappledots as possible to friends who sent them, but there were just too many.
Finally finished a cross stitch while listening to Welcome to Night Vale.