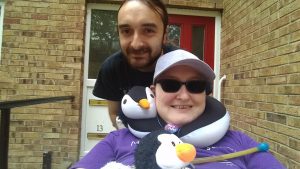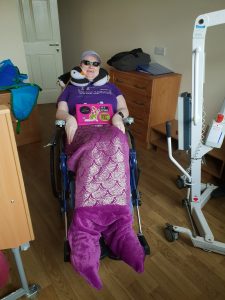 Two photos! One outside our front door before travelling to the care home, one in my bedroom in the care home.
Been a bit of a mixed week. Monday I was preparing to go into the care home, and Tuesday was the day I went in. During the day it's mostly been okay after resolving some misunderstandings (I asked for hourly checks as I'm not able to use a buzzer, and they thought that meant waking me up every hour). Night time, not so much. There aren't enough staff for someone to check on me hourly, and that means lots of pad leaks and needing entire bed/clothes changes and washes, which make me feel horrendous.
Johan is in Sweden for ESA Summer (ESA as in European Speedrunning Assembly, not one of the other ESAs). I'd much rather be with him or at home, but that's not an option so I get to stay in a care home for a couple of weeks instead. The staff are fine, but it's not home and they're not really used to someone like me (mostly able to communicate but needing prompting for things I need). This time I brought the Surface and my normal Tablet, and I had downloaded some shows to watch to save the data on my phone.
Didn't get out of bed this week after arriving, mostly because of feeling rotten from the journey/needing lots of bed changes/exhaustion from trying to cope with a new environment, new people and stuff. My room is really hot and I didn't think to bring a fan. I do have Poseidon, Primrose, Nicky and Isabella with me and have been talking to Johan and Sammie through Hangouts. I've also spent far too much time on Reddit, as it's the only thing I can concentrate on at times.
Overall mood – Mostly good with high symptoms, as was only tracking once a day.
Average daily sleep – 10 hours 29 minutes
Longest sleep – 18 hours 57 minutes from Saturday night to Sunday evening (deep sleep 61%)
Clothes changed – 4
Wipe wash – 1
Water wash – 3
Hair wash – 0
Books read – 0
TV watched – Doctor Who Series 10 Episode 3
YouTube videos watched – Lots
Streams watched – Penguin Cam and stuff on Twitch
Music listened to – Random selection from Google Play while travelling to care home
Podcasts listened to – 0
Blog posts written – 1
Penguins cuddled –  Yes 🐧🐧🐧
Johan hand holds – A few before he left
Johan hugs – 0
Time on Twitter – 9 hours 1 minutes (average 1 hour 17 minutes a day)
Time on Reddit – 33 hours 1 minutes (average 4 hours 43 minute a day)
Time on Facebook – 5 minutes
Other –

Migraines are evil. Had to cancel a visit because of one.
It's noisy here, especially as some residents have dementia and spend most of their time shouting or screaming. Still better than our upstairs neighbours at home though (as it's not arguing).
Wanting chocolate but Amazon is rubbish for it.
Game stuff
Games played – 4

Animal Crossing: Pocket Camp
Cross Stitch
Neko Atsume
Godville

AC: Pocket Camp Level – 115
Godville Heroine Level – 56 (75% done)
Godville wood for ark – 33%
Godville savings – 1 million, 396 thousand
Cross stitch completed – 0
Most played game – Animal Crossing Pocket Camp (4 hours 10 minutes, average 35 minutes a day)
Other –

New Gyrodite event in Animal Crossing. Not been concentrating much on it.
Not been playing much of my other games either, mostly logging in for daily bonuses and that's it.