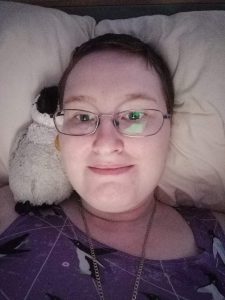 Been another mixed week, with some really good bits and some not good bits.The best bits were getting a bath (first time in 2 years) and seeing a friend 🙂
I had the bath on Tuesday, and this time remembered my penguin bath toy. I was allowed to just soak in there for about 10 minutes with the light off which was amazing. It was nice to be properly clean again.
I saw my friend Marga on Sunday, after having to cancel the week before due to migraine. She is awesome and the time disappeared really quickly. Talking to her helped me feel better after some not great days.
Wednesday and Thursday nights were not good. I'm meant to have hourly checks as not able to use the buzzer, and though on a night time this often becomes 2 hourly due to lack of staff (2 care workers for 22 residents, most of whom need a lot of help) those nights it was even worse than that, resulting in being covered in my own poo for hours (diarrhoea caused by my body disagreeing with the food). The resulting washing and bedding and clothing changes made me feel horrendous. A couple of the care workers also made me feel really guilty for needing frequent help, which also wasn't good. (From the future: I did put in a complaint the day I came home.)
When more with it, I spent a lot of time watching TV shows I needed to catch up with. First was Steven Universe, which both confirmed a theory I'd had from season 1, but also gave me a lot of other questions. I now have to wait for new episodes to come out, which I'm not used to. I also watched some of last year's Doctor Who. Bill is an awesome companion, and I've really enjoyed these episodes.
I didn't watch much of ESA this year, but I did catch the last race and the closing speeches. Saw Johan on the stream which was good (though I did have to check it was actually him – silly face blindness :P). It looked like a really good event, and now I just need my body to let me travel so I can go next time 😛
Overall mood – Mixed: awesome for Tuesday and Sunday, bad for Thursday and Friday, good for the rest of the week, with mostly high symptoms.
Average daily sleep – 8 hours 47 minutes
Longest sleep – 15 hours 5 minutes from Friday afternoon to Saturday morning (deep sleep 56%)
Clothes changed – 7
Wipe wash – 6
Water wash –  1 (in the bath!)
Hair wash – 1
Books read – 0
TV watched – Doctor Who Series 10 Episodes 4-8, Steven Universe up to Season 5 episode 25
YouTube videos watched – Some
Streams watched – ESA Marathon on Twitch
Music listened to – 0
Podcasts listened to – Welcome to Night Vale episodes 42 and 43
Blog posts written – 1
Penguins cuddled –  Primrose. Nicky, Isabella and Poseidon
Johan hand holds – 0 (he's in Sweden)
Johan hugs – 0 (ditto)
Time on Twitter – 1 hours 56 minutes (average 16 minutes a day)
Time on Reddit – 38 hours 41 minutes (average 5 hours 31 minutes a day)
Time on Facebook – 3 minutes
Other –

Day staff are good, especially since they let me sleep now they know I don't want waking up every hour.
Some night staff are great, and are just struggling due to not enough of them. Some, not so much.
Got soaked when someone didn't put the top on the Hydrant properly and it fell off the bed. That was not the most pleasant thing ever, but it did cool me a down a little bit.
Some of the staff don't understand my communication issues. Turns out even writing them down in a guide doesn't always help.
WordPress has a new editor and it's weird. If this is messed up, that's why 😛
Game stuff
Games played – 4

Animal Crossing: Pocket Camp
Cross Stitch
Neko Atsume
Godville


AC: Pocket Camp Level – 116
Godville Heroine Level – 57 (10% done)
Godville wood for ark – 33.6%
Godville savings – 1 million, 426 thousand
Cross stitch completed – 1
Most played game – Animal Crossing Pocket Camp (15 hours 37 minutes, average 2 hours 13 minutes a day)
Other –

Just about completed the Gyrodite event in time. It was annoying.
New fishing event, which was really annoying. Bought the golden rod with leaf tickets (premium currency) and though I completed the main goals, I didn't get all the items. They made it a lot harder and I'm not happy.
Spent very little time on other games, but did finally complete another cross stitch while listening to podcasts.