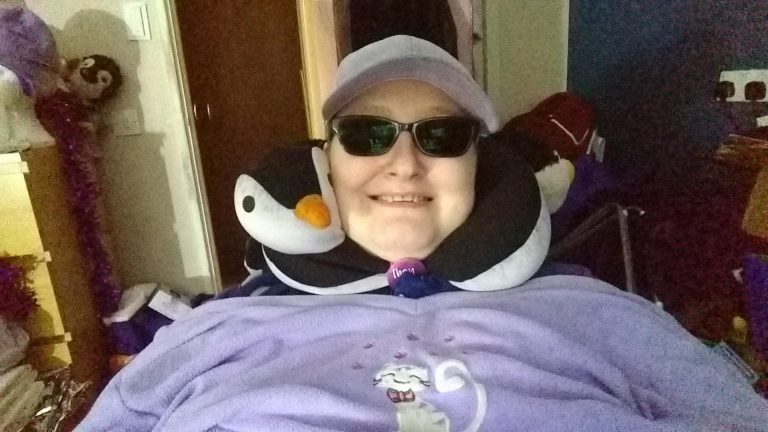 I am glad to be home. Got back on Wednesday 1st August.
Care homes suck. Even good ones. It's just not the same as being at home, and if you have severe ME, then it's really not good. There's too much noise, not enough staff, too many people to try and teach how you need things doing, and for me, constant anxiety over everything. They are not good for me, but at the moment it's the only form of respite we can get.
Monday Johan got back from Sweden, and as I was running out of essentials (mostly incontinence pads) he came to visit me and bring the stuff I needed. It was fun tracking his flight using an app on my phone, and he had free wifi on the plane so we were chatting at the same time 🙂 He also bought me some Swedish chocolate, which was yummy.
Monday night was not so good. I still had really bad diarrhoea, and the night staff decided to leave me for 4 hours, which meant I had been lying in a dirty pad for about 3 1/2 hours and by the end of it had spread up to my shoulders. Ended up with really bad nappy rash as well as feeling super ill from the washing and changing needed because they weren't checking on me as often as I needed. It also made a lot of extra work for them because changing my pad takes about 5 minutes for one carer, changing me and the bed takes about half an hour for two carers. I didn't get to sleep until 4.30am because of that, so slept through to the afternoon.
Tuesday was better, other than being unable to lie on my back due to the nappy rash. Johan came to see me in the afternoon and we talked about what foreign countries we wanted to visit, while looking up the government advice for each country. Determined that we're not going to quite a few. The night carers were much better than on Monday night, and though they couldn't manage hourly checks as they were too busy, they did see me every 90 minutes or so which meant it didn't get as bad as it had been. I'm also grateful for Cavilon as it really helped clear the worst of the nappy rash up.
Wednesday I went home! Before doing so, I put in a complaint about the night staff who were leaving me for hours with the manager. It'll depend on the response from her as to whether I'll be going back there again. I was so glad to be back in my own bed.
Thursday I slept most of the day, and felt a bit better for it waking up that evening. Managed to do a food shop and ordered World of Warcraft Battle for Azeroth Collector's Edition (because I missed WoW so much I knew I'd be playing it again). Johan's computer decided to die, so he ordered some new parts and I offered to pay as an early Christmas present. 
Friday the computer parts were meant to arrive, didn't, but said they did. That was annoying, but I had a long sleep, waking up Saturday afternoon.
On Saturday the parts actually arrived, so not sure what happened on the Friday. Also on Saturday I went on my desktop computer for the first time since February. After installing a ton of updates, I resubscribed to WoW and after fixing my addons and such, I worked on Argus quests. It's a great distraction from feeling yukky. Sunday was more WoW until about midday, where I fell asleep before the carers arrived.
Johan is happy with his new computer parts. They have LED lights in them that he can change the colours on. I think he's changed his mind on RGB computer stuff since he's seen how awesome they are 🙂 I want some but there's no point in getting them in my actual computer as I can't see it from where I am in bed, and the keyboards are too heavy for me. I am going to get the RGB version of the mouse I have when it dies, but it's being stubborn and continues to work 😛
Overall mood – Other than the Monday night which was horrible, I had an awesome week! High symptoms due to care home/travelling/recovery but distraction helped.
Average daily sleep – 10 hours 27 minutes
Longest sleep – 19 hours 17 minutes from Friday evening to Saturday afternoon (deep sleep 58.5%)
Clothes changed – 3
Wipe wash – 2
Water wash –  0
Hair wash – 0
Books read – 0
TV watched – Doctor Who Series 10 Episodes 9-12, Ultimate Beastmaster on Netflix 
YouTube videos watched – Lots, including WoW Cinematics
Streams watched – Bob Ross on Twitch
Music listened to – Random playlist on Google Play Music while travelling home
Podcasts listened to – 0
Blog posts written – 1
Penguins cuddled –  Lots! Glad to have home ones again
Johan hand holds – Lots as he was home!
Johan hugs – 1 (worth it)
Time on Twitter – 6 hours 17 minutes (average 53 minutes a day)
Time on Reddit – 16 hours 58 minutes (average 2 hours 25 minutes a day)
Time on Facebook – 1 hour (average 8 minutes a day)
Other –

The difference between the good night staff and the bad night staff was incredibly noticeable.
I was just about to contact Johan to phone the care home so they'd come sort me out when they turned up on Monday night/Tuesday morning. My timer showed just over 4 hours.
Swedish chocolate is nommy.
Home is the best.
Game stuff
Games played – 5

Animal Crossing: Pocket Camp
Cross Stitch
Neko Atsume
Godville

World of Warcraft

AC: Pocket Camp Level – 117
Godville Heroine Level – 57 (45% done)
Godville wood for ark – 35.0%
Godville savings – 1 million, 473 thousand
Cross stitch completed – 0
Most played game – Animal Crossing Pocket Camp (8 hours 45 minutes, average 1 hour 15 minutes a day)
Other –

New flower event in Animal Crossing. This one is catching Flutterflies.
I have so much to do in WoW. Luckily I'm still in my guild and I'm so happy to be playing again.
Completed the Argus questline in WoW.