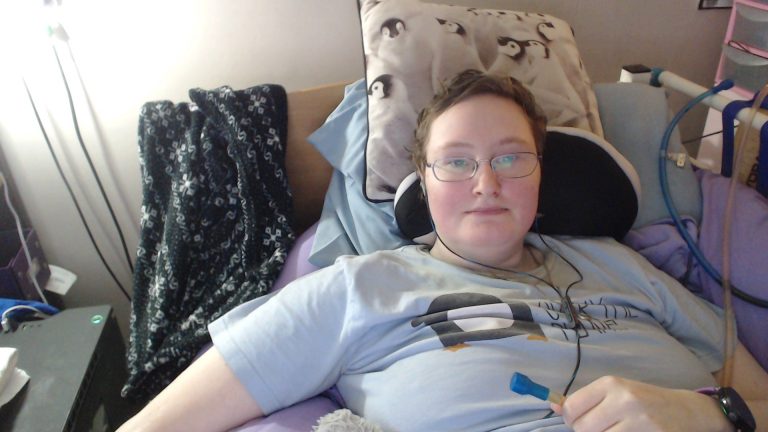 I did remember to take a photo this week, even if it was nine minutes to midnight on Sunday evening while writing the previous post. One day I might do something with my hair, like comb it or wash it 😛
The beginning of the week I was mostly useless due to payback. When I wasn't sleeping I was feeling completely rubbish, and even handholds were very painful (though I still insisted on them as I need them). 
Thursday I finally started coming out of it, and after debating options, decided going on my computer was my preferred activity as touch was still too painful for practical things or being hoisted, but typing and moving a mouse I could do. Had loads of emails to sort out and I spoke to Sammie which was good. I also played WoW, probably for too long as I came off Friday morning due to pain, which then stopped me sleeping for a while. Whoops. I also realised that my digestive system had basically been on strike for two weeks, and made a plan with Johan that if I couldn't sort it out myself that weekend, then we'd get the nurses in.
Luckily on Saturday it woke back up, and as I knew I'd be pretty constipated after over 2 weeks (even with eating less than normal due to payback) used a suppository to help things along. I am so grateful they work for me, and without anywhere near as much pain, nausea and vomiting as laxatives. Still not fun but it could be worse. As usual I was knackered afterwards but it was expected.
Sunday I managed more computer time so video chatted with Sammie, and watched Doctor Who. It's a good thing I'm not scared of spiders! Spent several hours working on the last blog post, much of which was fighting with the lists as they kept breaking. It's been a long time since I had to write lists out in html but the visual editor wasn't working. Hopefully it'll work better today. (It didn't. I've reverted to the classic editor even though I like some aspects of the Gutenberg editor because constantly editing html is too much right now, but it has just been reported on GitHub so hopefully it'll be fixed soon.)
Overall mood – Mostly good, with Thursday and Friday being awesome. High symptoms except Thursday and Friday.
Average daily sleep – 11 hours 20 minutes
Longest sleep – 17 hours 4 minutes, from Saturday evening to Sunday morning
Clothes changed – 0 (too much pain)
Wipe wash – 0 (ditto)
Water wash – 0
Hair wash – 0
Books read – 0 (I think I need to pick an easy fiction book)
TV watched  – Doctor Who
Streams watched – 0
Youtube watched – Caught up on Wednesday and Thursday
Music listened to – 0
Podcasts listened to – Episode 62 of Welcome to Night Vale
Blog posts written – 1
Penguins cuddled – Nicky and Isabella
Johan hand holds – Yes, even though they hurt
Johan hugs – 0
Time on Twitter – 11 hours 10 minutes (average 1 hour 35 minutes a day)
Time on Reddit – 19 hours 56 minutes (average 2 hours 49 minutes a day)
Time on Facebook – 27 minutes
Other –

Twitter is good for not feeling so lonely. And Bilbo pictures.
Reddit is good for entertainment when brainfoggy. And cute animal pictures.
Doctor Who was awesome. And scary. I would have liked to watch it with Johan but he wanted to go on his computer instead.
Game Stuff
Games played – 7

Animal Crossing: Pocket Camp
Cross Stitch
Neko Atsume
Godville
World of Warcraft
June's Journey
Pearl's Peril

AC: Pocket Camp Level – 131
Godville Heroine Level – 60 (84% done)
Godville wood for ark – 47.2%
Godville savings – 2 million, 122 thousand
Cross stitch completed – 0
Most played game – Animal Crossing (12 hours 5 minutes, average 1 hour 43 minutes a day)
Other –

Fishing event in Animal Crossing. Played a lot and managed to finish it with just under a day to go. Did use the gold fishing rod though.
Got Storms Wake to exalted in World of Warcraft. Only Proudmoore Admirality and Tortollen Seekers left to do.
June's Journey is really fun. Pearl's Peril is also good.
Gaming is awesome 🙂