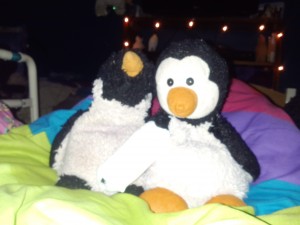 I've had a rough day. My prescribed Fortisips arrived and though I was meant to be prescribed only chocolate and vanilla flavours, the first one Johan gave me was Fruits of the Forest. Which my body reacted to as badly as it did the Skittles milkshake and strawberry milkshake I tried, confirming that I can't have fruit flavoured heavy drinks now (I can manage fruit squash okay, but pure fruit juice, smoothies and fruit milkshakes cause worse nausea; and burn my throat and taste disgusting when they're brought back up). I also had my body attempting the final part of digestion, which had me shaking, sweating, curled up in a ball and at one point crying from the pain. It lasted several hours, and I'm grateful that I didn't have to attempt it on a bedpan or toilet as though the clean-up sucks being able to lie on my side did help a bit. I think the worst of it is over this time.
Penelope's wing got burnt in the microwave 🙁 I performed surgery (cutting away the burnt fur/feathers and removed the burnt stuffing) and have used a part of a dressing to stuff her wing and have bandaged it up. We're going to look into a skin graft but even if that is possible her heating days are over. I'm giving her loads of cuddles and she's asked me to find one of her siblings to do her job. Unfortunately the Intelex website is out of stock of Penny's sisters, but I've emailed them asking when they'll next be available and if that fails, I'll look elsewhere. She might be a disabled penguin now but I still love her very much.
Despite all that, I'm happy. I believe that every person has at least some goodness in them (even Tories, though it can be hard to see there) and my friends show me their love and goodness all the time. I have Johan, who does everything he can to make me feel as comfortable and well as possible (and didn't even complain about the messy clean-up earlier). It can be easy to think everyone and everything is bad when that's what must of the news concentrates on, and there are a lot of bad things that happen, but there are people trying to make the bad things less bad and do more good things. One of Nerdfighteria's aims is to reduce world suck (the other main one is DFTBA – don't forget to be awesome).
I might blog about the downsides of having severe ME (and like a lot of disabling chronic illnesses it sucks a lot) but part of me learning to adapt to it was to try not to dwell too much on it. Blogging and tweeting helps me with this- once I've written about it it frees my brain to think about other things, and knowing that there are people who care really helps. Having ME has opened me up to a whole community of good people I proudly wouldn't have met before, some of whom I now class as friends. I still want a cure and wish my friends weren't suffering, but I'm grateful for what it has brought me. (I try and keep out of the politics side of ME for the same reason I limit my intake of bad news- there's nothing I can safely do to help and there's a lot of (mostly justified) negativity that makes me more ill.)
I'm also grateful to be Autistic. Unlike the ME I don't want to be cured, despite the difficulties it can cause. I like who I am and I wouldn't be the same person without it. I discovered Second Life through the autistic community, and without that I would never have met Johan. Autism doesn't make me ill- it means I think and process stuff differently, but it's not broken. I have super senses- it may mean I can't tolerate loud noises or certain smells but it also allows me to enjoy lights and sparklies in a way I can't explain. And every time I see a penguin it makes me very happy. The autistic community has also introduced me to some awesome people I otherwise wouldn't have met, and learning there were people like me has been very positive.
Lent begins tomorrow. I'm not giving anything up for it this year- if I were to give up something food related I think my dietician would kill me, and I'm not sure what else I could give up. Instead, I'm going to try and do nice things for people. After I wake up I'm going to make a list of the specifics of this, but some ideas I've had are writing a note to someone on Post Pals, sending someone who needs cheering up a small gift, and seeing if I can help someone with one of my skills (I might not have many I can currently use, but there are still some).
Good things that have happened today include playing some World of Warcraft, Johan and the other raiders in my guild managing to kill Heroic Paragons, managing to install a new beta version of Paranoid Android on my tablet (accidentally wiping it in the process, but it needed it and I'd backed it up yesterday), cuddling my Penguins, making Penelope feel better, getting clean, dry pyjamas on, joking with Johan, talking about interesting things with my guild in Mumble, playing with the Google Now speech recognition stuff, and writing this blog post. That's quite a lot considering I've been awake less than twelve hours and haven't got out of bed 😛 Time to sleep now, and that's good too.