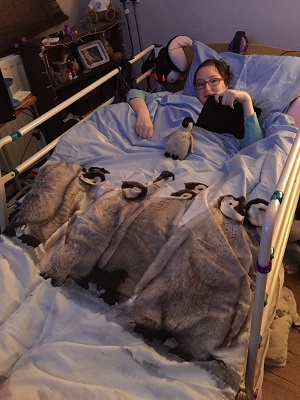 Today I woke up at about 2.30pm (missing the morning carer, who came late herself) but I've had a busy for me day since then. I watched some YouTube videos with Johan and Esther (Humans and Households) then watched the first Season 8 Doctor Who episode. I am very confuzzled by it, but I'm glad I waited until I was with it enough to manage it.
Just as the episode was finishing, my evening carer arrived. I had my top changed as mine was damp (this stupid cold making me sweaty) then she changed my bedding into the new ones I'd got with the food shop. I'd been looking for penguin bedding for years but never managed to find any that were affordable. This year there's loads available, so I might even get a second set from somewhere 🙂
In the food shop (which arrived today) I ordered cookie and cream spread to try, but it's been substituted for bourbon cream spread. I'm looking forward to trying it 🙂 I also got sushi and some prepared fruit which I had for my tea.
I got onto my computer around ten to 8 and was able to say goodnight to Sammie before she went off. Since then I've mostly been messing around looking for penguin stuff (there's so much now!) and chatting to Johan. I also tried Hatoful Boyfriend (the premier pigeon dating simulator) and got very confuzzled, not least in how to turn the volume down without using the Windows mixer. I think I'll try it again another day.
I'm starting to get tired now so will have to come off my computer when I've finished this post, but I'm really happy I've managed to get on it 😀 Today has been a good day.