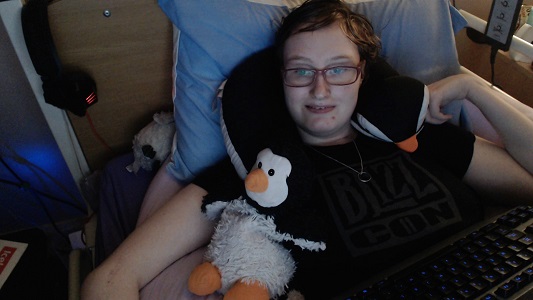 Always need more penguins.
Today is the second day of Blizzcon. I'm so happy I've been well enough to watch most of it. Yesterday I managed to watch stuff all the way through to the end of the costume contest, which was awesome. Today I started watching stuff when it began again, and if there hadn't been a little accident with the fire alarm I'd have probably watched it all the way through today. As it is I'm taking a bit of a break now from watching it to kinda rest and to write this. I even put my Blizzcon t-shirt on today (though the awesome picture is on the back so not easily seen when in bed, and the dark grey on black isn't easy to see in photos).
With the fire alarm that didn't affect me too badly by itself (a bit of body jerking and becoming non-verbal which I can cope with), but the care call alarm went off (to check we're okay) and the high pitched noise of that went right through me and made me feel horrendous for a bit. Yup, the care call alarm is worse than a fire alarm. If it weren't for the fact if there is a fire it could save my life (they know I'm bedbound and will call the fire brigade if there's actually a fire/we don't tell them we're okay if the alarm has gone off) then I'd consider getting rid of it.
My favourite parts of Blizzcon so far have been the World of Warcraft panels, the announcement of Overwatch (first multiplayer shooter game I really want to play) and the Hearthstone expansion Goblins vs Gnomes. I've enjoyed everything I've seen though other than the technical difficulties 😛 If I weren't too ill I'd be playing all the Blizzard games I have right now (that's World of Warcraft, Diablo 3, Hearthstone and Heroes of the Storm). As it is I'm hoping I'll be okay on Thursday to play at least some of the new World of Warcraft expansion, Warlords of Draenor.
Of the Overwatch stuff we've seen so far, Tracer is my favourite character but I really dislike her accent (fake cockney). Surely Blizzard could find a British voice actor for their British character?! The idea behind her character is awesome though. The character I'd most feel comfortable playing from a type perspective will probably be Mercy, as she's the main healer character. The whole idea is just awesome though and the cinematic they had was amazing, especially with little things like the security guard playing Hearthstone 🙂
I'm hoping tomorrow to catch up on some of the panels and things that I've missed, but if I'm not up to it I have a couple of weeks to do so. So many things I want to do and not enough spoons to do them all. I can be excited and happy about them though 🙂