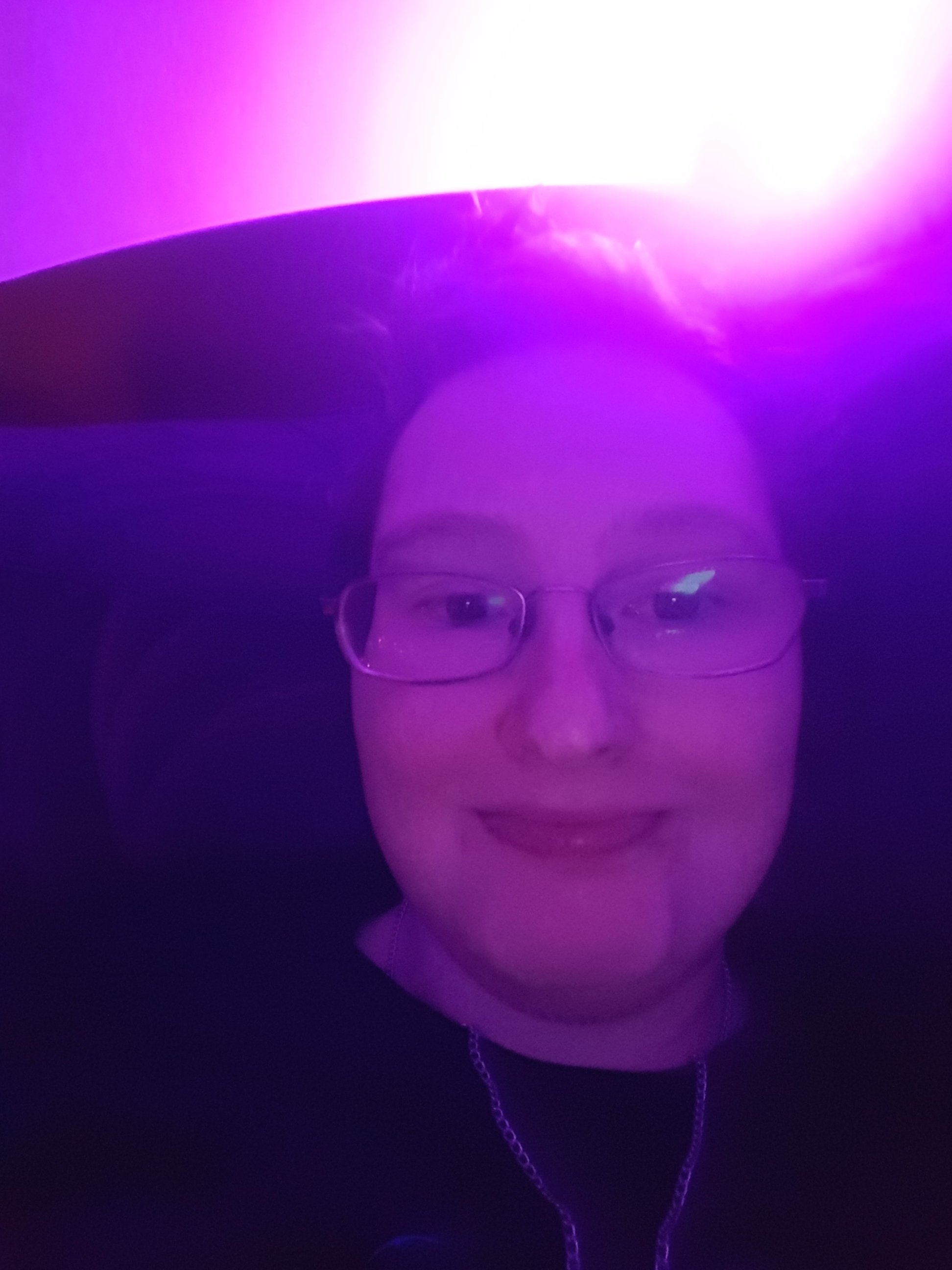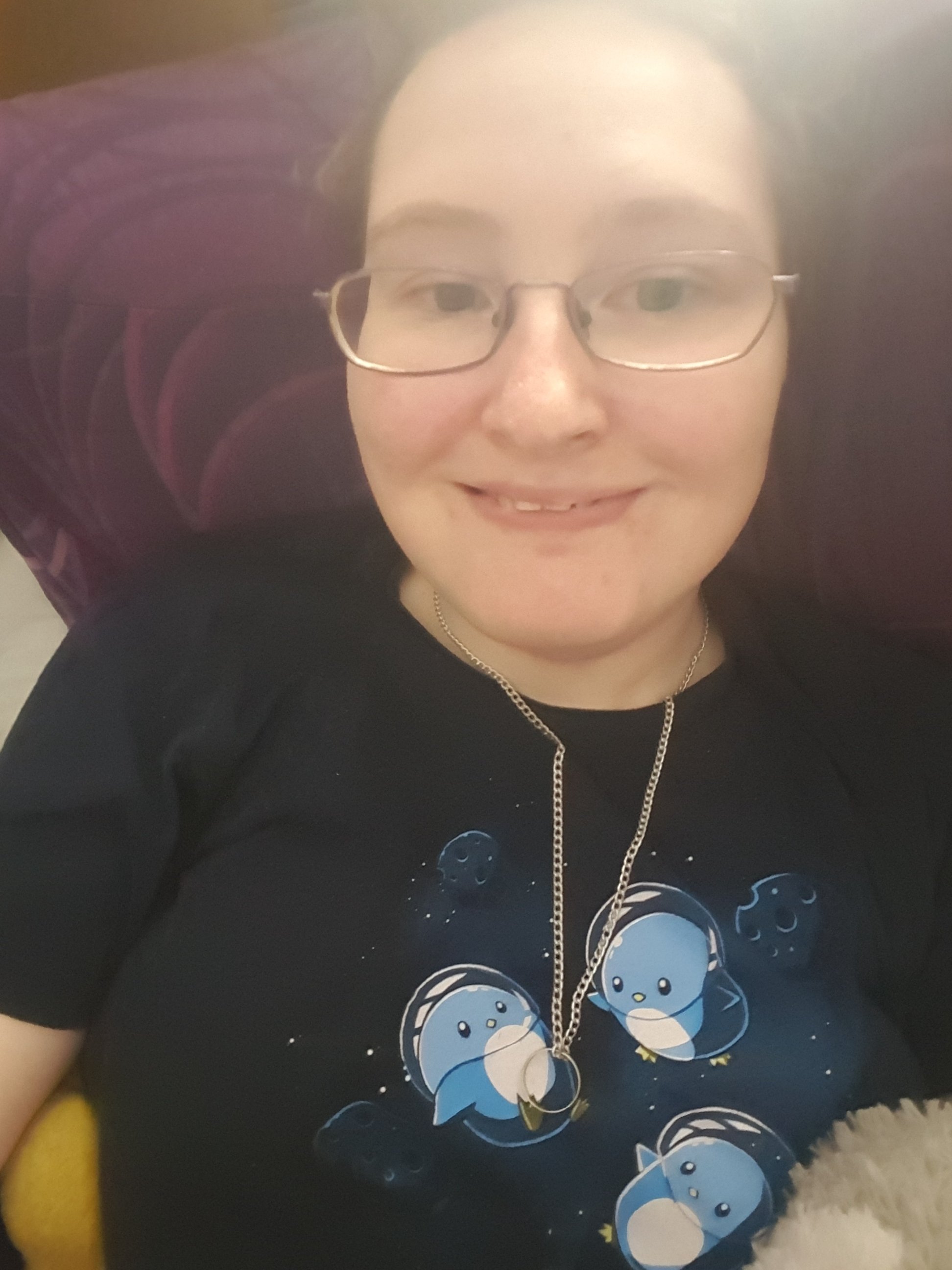 I've been a very tired penguin, and have not been sleeping as much as I've been wanting. These may be related. I've also been hallucinating quite a bit. When it's hearing Johan calling me when he's not home, it's pretty easy to figure out it's not real. The phone or doorbell ringing are harder. Music helps, but I have to be careful as it can easily be overwhelming.
Johan has been doing a lot of running, including a marathon today that he ran faster than anyone else doing a marathon there. He is happy. I am proud!
Main event was getting a visit from Esther today! Thank goodness for adrenaline. Totally worth it even if I get payback from it. I'm hoping to be well enough to have more visits soon.
Two pictures this week – an attempt at a selfie in my normal (purple) light conditions, then a second where I made the light white for a minute. White light is very bright. Having the light behind me is excellent for not being overwhelmed but not good for selfies.
Overall mood – Good 😊
Average daily sleep – 6 hours 44 minutes (of 10 hours 22 minutes trying)
Longest sleep – 8 hours 41 minutes from Wednesday night to Thursday morning (of 11 hours 40 minutes)
Clothes changed – 1 (Space Penguins. Because Space Penguins.)
Wipe wash – 1 (And was much more painful than expected)
Water wash – 0
Books read – 0
TV watched – Small amount of BBC News when trying to find out if Hawaii had a missile headed towards them (they didn't)
YouTube videos watched – 0
Music listened to – Darwinia soundtrack, Spirited Away soundtrack (now my default when hallucinating and am home alone)
Blog posts written (including this) – 1
Penguins cuddled – lots 🐧🐧🐧
Johan hand holds – lots (and a Esther hand hold too!)
Johan hugs – 0
Time on Twitter – 4 hours 45 minutes
Time on Reddit – 10 hours 46 minutes
Time on Facebook – 1 hour 10 minutes
Other –

Received massive box of sweets with a giant foam banana
Esther visited!
Sammie been sending lovely messages
Attached Velcro to my tablet and bed rails so I can easily hang it up when I'm not using it (my bed rails are very tall)
Care worker who had been here multiple times before asked if I liked penguins. We're trying to figure out how on earth she didn't notice before
Game stuff
Games played – 6

Animal Crossing: Pocket Camp
Cross Stitch
Neko Atsume
Godville
DragonVale
Infinity Loop Premium

AC: Pocket Camp Level – 62
Godville Heroine Level – 47
Godville wood for ark – 2.2%
Godville savings – 123 thousand
Cross stitch completed – 6
Most played game – Animal Crossing: Pocket Camp (22 hours 30 minutes – I might be a little obsessed)
Other –

Got a new pet in Godville, a Lightsaber-Toothed Tiger called Sandy. They're level 5.
Building third tier rustic amenity in AC:Pocket Camp. Once that's finished I can level all the animals to level 20.
Also enjoying the new butterfly event in the garden. I have so many people giving me butterflies I've already completed the diamond butterfly goals and am one away from the topaz ones. I think I won't have a problem getting everything in the event.
Completed all the New Year cross stitch patterns. Now finishing the free ones before deciding which to buy with my coins next.