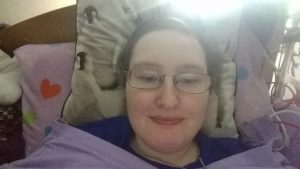 The photo is terrible but was what I could manage. I really need to ask Johan to take more photos of me 😛
I'm still not quite happy with the blog theme but I'll get there eventually. At least this one doesn't have a massive picture on the top (header images aren't really my thing, as I'm terrible at them).
This week was a bit better than last week. I think I might be coming out of this blehness, though I still don't know what caused it. I spent a lot of time trying to sleep or looking at cute pictures/reading rubbish on Reddit.
The best parts of the week were having my top changed and a wipe wash with Johan on Wednesday, and having my hair washed with a shampoo cap on Saturday. It was nice to feel cleaner. I also remembered I liked marmalade so had that on toast a few times for lunch, and our favourite pasta restaurant was delivering here again so we got nommy fuds from there on Thursday evening (I love the tagliatelle carbonara and the white chocolate cheesecake). I was asleep for quite a few of the care calls, but by the end of the week I could tolerate the carers being in my room again. Other than a few changes I wasn't told about (which made me very anxious and panicky) my mood was good.
Johan decided to run to Crawcrook for pizza on Tuesday. He says the pizza, chips and sauce are all just as good as he remembered. I'm a little bit jealous but Crawcrook is a tad far for me to go at the moment. Getting pizza home would also be interesting as it takes nearly an hour on the bus, taxis are expensive and Johan can't exactly run that far while carrying a pizza.
While Johan was out running I attempted playing Vostok Inc. and Stardew Valley on the Nintendo Switch. Vostok is really fun, but it's a twin stick shooter and I couldn't get my hands to do different things so I'd be shooting in the direction I was running instead of at the enemies. I died a few times before giving up. I'll get Johan to play it for me and try again on PC at some point. Stardew Valley I again struggled with the controls. I think for now the Switch will be mostly Johan's, and when my hands/concentration gets better I'll have a go. Luckily we can plug it into the telly so I can watch him playing it 🙂
Saturday I was feeling up to watching things again so I resubscribed to Netflix, as they were offering me another free trial. Watched Nailed It with Johan and it was hilarious. Sal should just never touch a microwave. We had McDonalds as we'd not done a shop since the middle of February so didn't have much in. It was an awesome day and I hope we can watch more together.
Sunday I had a bit of payback from watching Netflix so didn't do much. Still felt nowhere near as bad as I did the week before which I'm very grateful for. Hopefully whatever caused that is now gone and I can concentrate on getting up and doing things soon.
Overall mood – Good, as I wasn't as ill as last week
Average daily sleep – 7 hours 20 minutes (of 10 hours 18 minutes)
Longest sleep – 7 hours 38 minutes from Sunday evening to Monday morning (of 11 hours 20 minutes)
Clothes changed – 1 (nerdy penguin and penguin fleece)
Wipe wash – 1
Water wash – 0
Hair wash – 1 (shower cap)
Books read – The Wall (53%)
TV watched – Nailed It (Netflix)
YouTube videos watched – 0
Streams watched – Penguin Cam
Music listened to – 0
Blog posts written – 2 (being late with a weekly review helped with that)
Penguins cuddled – Yes 🐧🐧🐧
Johan hand holds – Indeed
Johan hugs – Not yet. Soon?
Time on Twitter – 9 hours 44 minutes (average 1 hour 23 minutes a day)
Time on Reddit – 35 hours 14 minutes (average 5 hours 3 minutes a day)
Time on Facebook – 58 minutes (average 8 minutes a day)
Other –

Digestive system was bad but not quite as much as the week before.
I wish I didn't find unexpected change so hard. It's worse when I can't use my usual coping mechanisms as too ill to move.
Johan made me laugh so hard I couldn't breathe. Unfortunately I've forgotten what it was about.
Twitter friends are amazing.
So is Sammie. And Johan.
As are penguins.
Game stuff
Games played – 5

Animal Crossing: Pocket Camp
Cross Stitch
DragonVale
Neko Atsume
Godville

AC: Pocket Camp Level – 84
Godville Heroine Level – 51 (25% done)
Godville wood for ark – 13.7%
Godville savings – 589 thousand
Cross stitch completed – 1
Most played game – Animal Crossing: Pocket Camp (7 hours 11 minutes, average 1 hour 2 minutes a day)
Other –

Didn't play games at all Tuesday or Wednesday as wasn't feeling up to it.
Got a Gold Trophy in the Animal Crossing fishing tournament.
Second part of the Mario Event started, and I got every item available other than the leaf ticket one.
Four more animals were added, and I've invited them all to my camp.
Elite rift dragons in Dragonvale are annoying. So many fails.
I keep missing Hermeowne in Neko Atsume. I only need her memento to have a complete catbook.