I got very lucky and my new tablet was delivered Tuesday afternoon. I still have some final setting up to do but it's working, rooted and it charges!
Tuesday was a good day. While on my computer I managed to sort out all my emails including setting up new filters so my inbox is less overwhelming, update my care call spreadsheet (43 different care workers so far this year, 87 since I started with the agency in 2017, not including any that weren't on my rota), and play some World of Warcraft. Got to honoured with Rustbolt Resistance and did some of the Pilgrim's Bounty quests so I'm happy there.
The physiotherapist came, and it was fine. I'm to continue doing the exercises I've got when I can, and when I'm ready to progress to more ask my GP to refer me back and she'll see me again. Since it's going to take a while to see much improvement it makes sense to discharge me, but if I've got any issues I'm just to ask for another referral. She also gave me some utensil holders from the OTs to see if it'll make feeding myself bit easier. They're different from the ones I've already tried and it looks like they might work so I'm excited to try them.
I was still feeling okay after the physio left so I talked Johan into taking me to the barbers. It was raining, and it felt amazing to feel it on my face. It was a little awkward and scary getting me up the step inside, but inside was spacious and they had no problems shaving my head. There was no music playing which was a bonus, and the other barber putting the telly on didn't bother me with my ear plugs in.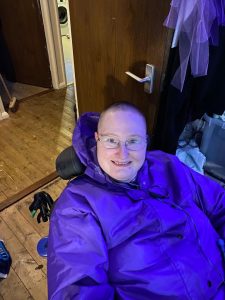 They took a lot of care, and I felt more comfortable than at the other barber I've been to. It was also cheaper (though I added a tip as I was so happy). They called us both sir, which I found amusing (I'm normally read as female by people under 70). The only minor downside was the smelly spray they used at the end (nice scent but a bit strong for me) but I'll just ask them not to use it next time. I'm definitely going back there, and as it's so close hopefully more frequently than every 7 months.
My tablet arrived at the local shop not long after I got back, so Johan went to get it then left me with it and the Surface (so I could put TeamWin on it) while he went to the doctors to sort out my tramadol (the electronic prescription didn't go through properly or something, but I have them now). By the time he got back I was getting pretty tired as I'd been up since Monday evening, so he went for his run while I got my tablet to a working state then went to sleep.
I'm writing this on Wednesday morning (though it's still Tuesday in some of America) and I'm a bit annoyed as my digestive system has decided to play up. Nothing I haven't experienced before but it hurts and I'd like more sleep please. Hopefully it'll settle down so I can rest more. I suspect the rest of the day I'll be finishing sorting out my tablet and resting after yesterday.
While I was asleep Johan managed to get my old tablet to charge with one specific cable (probably bent just right to make contact) so he's taken that, wiped it (as I didn't need the nandroid backup as I'd already done a fresh install of Resurrection Remix) and installed Pixel Experience (Android 10). He says it runs much faster than when I was using it (I need a lot of accessibility apps which slow things down) so he's happy, and I'm happy it's not just a deadweight. I'm still glad I replaced it as I move so much that I'd probably mess the cable up so it no longer charged at all. Yay!