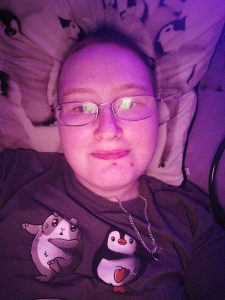 Johan is much better at taking photos than I am. Purple light isn't really that great for selfies. I have stolen his t-shirt though, which makes a change from him stealing mine (the hamster and penguin do a fusion dance and turn into a porg lower down the t-shirt image).
Mostly been a sleepy week. It took a couple of days for the side effects from the extra medication to ease off, but it wasn't too bad. I was up all through Monday night/Tuesday morning but was pretty productive during that time, updating my care instruction book and started work on a series of blog posts I'm hoping to get done soonish.
Tuesday Johan went to Sammie's to see if we could stabilise her internet connection. Living in the middle of nowhere there isn't much we could do about the slow speed but swapping from wifi to powerline adapters seems to have help stop it constantly disconnecting. I helped by buying them 😛 Once I did get to sleep I slept through until Wednesday evening, with small enough antinaps they're not showing on my tracker.
Not listened to much Welcome to Night Vale as Johan wanted to catch up. He's now ahead of me but only by a couple so hopefully I'll catch up to him soon. I did listen to part of a Hello Internet episode but they're too long for me at the moment (and I didn't find a transcript so other than there being a zoo, penguins and Star Wars involved I don't really know what was going on).
Other than sleeping, being very sleepy and working on future blog posts and some spreadsheets, it's been a pretty quiet week. Was a little bit grumpy on Saturday as I felt well enough for a shower for the first time all year, but Johan wasn't up to giving me one. I had a wipe wash in bed but it's not the same (and due to various reasons mostly around not coping with care workers, more painful than the shower would have been). I cheered up by the time I filled my diary in though.
Still waiting on my wheelchair being fixed. Johan says the replacement parts have been ordered, but not heard from them yet so will be prodding him to chase them up soon. I'm wanting to have it back for my birthday – though as the last time I was out of bed on my actual birthday was 2011, I'm not sure how realistic using it is then is. I'm hopeful though and don't have any big events I need to rest for like some other years.
I've decided to start tracking my symptom levels along with my mood, as otherwise it's just a lot of goods which isn't very informative (other than now knowing I mostly have good days moodwise). Only figured out I could do that this morning though so it won't be recorded below until next week's blog post. I'm glad to get it done on time this week.
Overall mood – Good
Average daily sleep – 10 hours 51 minutes
Longest sleep – 24 hours 13 minutes from Tuesday evening to Wednesday evening (deep sleep not recorded due to user error)
Clothes changed – 1 (Johan's penguin + hamster = porg t-shirt, and cat fleece top)
Wipe wash – 1
Water wash – 0
Hair wash – 0, but did get head wiped during the wipe wash
Books read – 0 (I need to remind myself I want to finish this book)
TV watched – 0
YouTube videos watched – 0
Streams watched – 0
Music listened to – 0
Podcasts listened to – Welcome to Night Vale (Episodes 31-32), Hello Internet (part of episode 37)
Blog posts written – 1 (though worked on another)
Penguins cuddled –  Lots of cuddles 🐧🐧🐧
Johan hand holds – Plenty
Johan hugs – 0
Time on Twitter – 3 hours 33 minutes (average 30 minutes a day)
Time on Reddit – 21 hours 13 minutes (average 3 hours 1 minute a day)
Time on Facebook – 19 minutes (average 2 minutes a day)
Other –

Sleeping a lot makes it harder to do stuff. As does being too tired to do much.
Definitely think the weather has a big impact on how I feel. When it's warmer outside I'm in less pain and often feel better overall. If I'm not asleep.
My hips are complaining a lot about how much sleep I'm getting. Although the alternating air mattress helps a bit, they still don't like the pressure after a few hours, and the 90 minutes or so of lying on the other one isn't a long enough break.
Game stuff
Games played – 6

Animal Crossing: Pocket Camp
Cross Stitch
DragonVale
Neko Atsume
Godville
Color Puzzle

AC: Pocket Camp Level – 103
Godville Heroine Level – 54 (38% done)
Godville wood for ark – 24.4%
Godville savings –  1 million, 9 thousand (yay!)
Cross stitch completed – 1
Most played game –  Animal Crossing Pocket Camp (12 hours 27 minutes, average 1 hour 46 minutes a day)
Other –

New Animal Crossing flower event – collecting Bumblecubes (cubed bees)
Seems a bit harder to get the rarer bees this time for the first half
My to visit list in Animal Crossing has reached 25 people. I know one of them outside the game.
Happy to get my first million savings in Godville. Only 29 million left to go 🙂