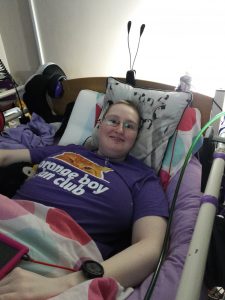 I am so happy I had a shower! Johan took the photo after I'd been sorted out in bed afterwards.
Mostly had a chilled out week, saving energy for the Sunday as Johan promised he'd shower me if I was well enough, no matter how he felt (after I'd asked him a few times and he didn't feel up to it). I ate a lot of ham and pease pudding sammiches, because they're nice and I remembered to buy the ingredients when I did the food shop.
I did quite a bit of sleeping, and reading Reddit/watching YouTube/playing mobile games when not resting. Sammie confirmed that her internet was more stable which I'm happy about.
I had to call Johan home early due to digestive problems, and had issues with my legs and hips due to how long I was lying on them (I have to sleep on my side as otherwise I can't breathe properly, and though the alternating air mattress helps a bit it doesn't fix all the pain).
Johan ran the Blaydon Races on the 9th of June, and I was able to follow his progress via his Garmin GPS watch, which I then live tweeted because I could. He told me afterwards that I knew before he did what his time was. Garmin said he took 38 minutes 9 seconds to run 5.6 miles, but his official result was 38:04. As he was wanting to get under 40 minutes he was very happy with this. Afterwards he went out with friends and came back less sober than he left 😛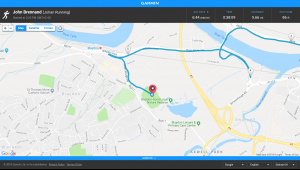 Sunday was shower day and it took until the evening for me to be well enough, but it was awesome. Found another couple of things I need to improve on the shower chair to reduce pain such as lumbar support and some sort of cushioning on the foot rests, but that shouldn't be hard.
I do want to find out why I can't breathe properly when the shower is on my head and neck (and face, but that seems more obvious). We've got it on the lowest setting and the temperature is fine, but something about it makes me really breathless. It could just be pain as even on the lowest setting each water drop hurts, but it's less of a problem below my shoulders. Makes washing my hair interesting but at least with it being so short right now it doesn't take long.
Overall mood – Good, with a normal level of symptoms most of the week, high level Wednesday and Thursday.
Average daily sleep – 9 hours 19 minutes
Longest sleep – in 19 hours 1 minute from Thursday morning to Friday evening (deep sleep 59%)
Clothes changed – 2 (Gender is a Universe top, Orange Boy Fan Club top)
Wipe wash – 0
Water wash – 1 (I had a shower!)
Hair wash – 1 (Shower! Yay!)
Books read – 0
TV watched – 0
YouTube videos watched – Vlogbrothers, Tom Scott, Jessica Out of the Closet
Streams watched – Rockhopper penguin cam
Music listened to – 0
Podcasts listened to – Welcome to Night Vale (Episodes 33-37), Uncommon Sense (Episodes 0-2)
Blog posts written – 1
Penguins cuddled – Poseidon demanded the most 🐧🐧🐧
Johan hand holds – Yup
Johan hugs – 0
Time on Twitter – 3 hours 59 minutes (average 34 minutes a day)
Time on Reddit – 18 hours 17 minutes (average 2 hours 36 minute a day)
Time on Facebook – 21 minutes (average 3 minutes a day)
Other –

I had a shower! It had been nearly a year since the last one so I'm still excited.
Have discovered most of my penguin bedding has disappeared. I hope it turns up soon.
TV Tropes is good to read when not feeling great.
Rockhopper penguin chick is called Floof because I say so (and is a big ball of floof). Floof escooped their nest this week, but ran back and hid behind parent when hoomin came.
This blog post is late due to payback from shower. It also was posted prematurely as I pressed the wrong button. Twice.
Game stuff
Games played – 4

Animal Crossing: Pocket Camp
Cross Stitch
Neko Atsume
Godville

AC: Pocket Camp Level – 105
Godville Heroine Level – 54 (80% done)
Godville wood for ark – 25.8%
Godville savings – 1 million, 63 thousand
Cross stitch completed – 5
Most played game – Animal Crossing Pocket Camp (12 hours 11 minutes, average 1 hour 44 minutes a day)
Other –

Completed Bumblecubes event with a day spare. Having lots of generous friends in game helps a lot.
I miss World of Warcraft and other PC games. I hope to be well enough to play them again soon.