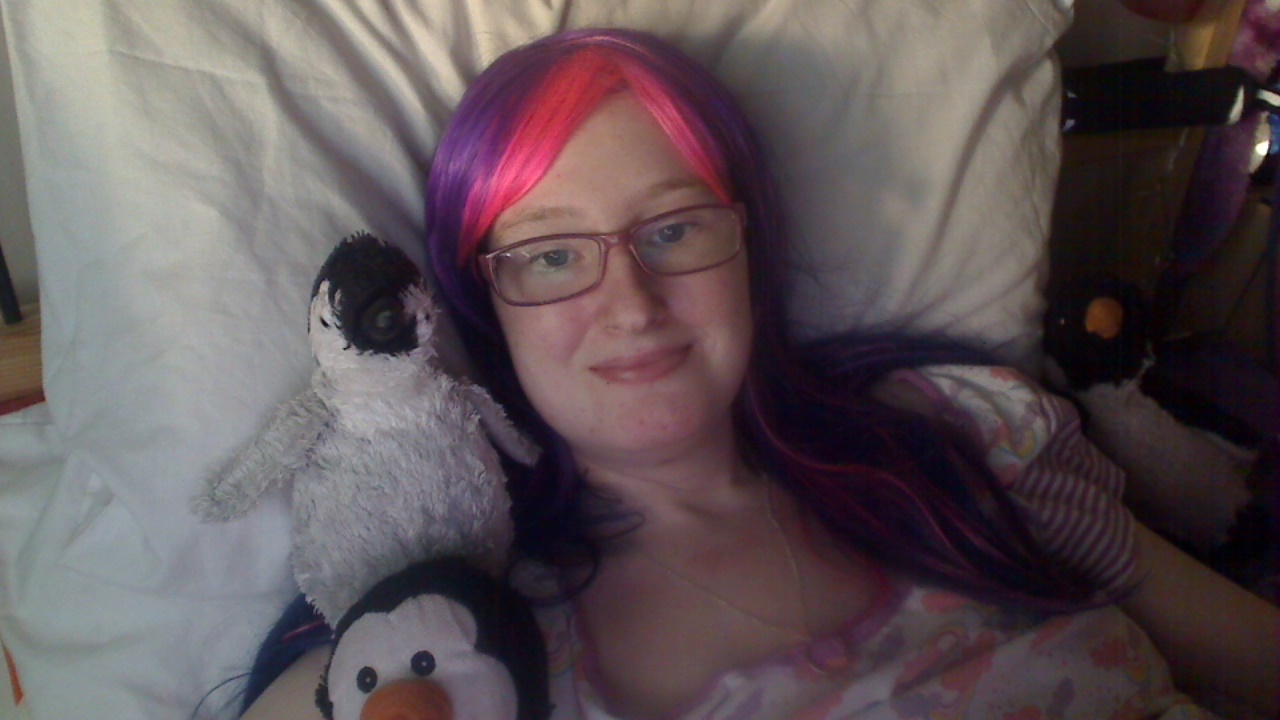 I really like this photo of myself. Yesterday (Tuesday) I finally wore my wig, and I love it. I also got dressed and had my hair washed (took wig off for that). Had the best day I'd had in months so very happy. Bullet points for easiness.
I have a Tumblr now. Tumblr is cool. I'm at http://dannithepurplepenguin.tumblr.com/(Dannilion was taken) and I'm slowly figuring it out.
Still not spending much time on Twitter or Facebook. They are overwhelming. That is frustrating.
Spending lots and lots of time in World of Warcraft. Brilliant distraction.
Tiarna (my Gnome Mage) is now level 90. I now have two characters at level cap.
I saw the CFS team again. They are going to continue visiting me at home as long as I find it helpful. That is reassuring.
I need to see the GP again about stuff. Still getting kidney pain even though I'd been on antibiotics for the infection.
I have NHS incontinence pads/adult nappies now. First got sent the small which are tiny. Now have the medium which are too big but usable. Gateshead use Molicare, which are actually decent.
Still no sign of the OT. I wanna get out of bed!
Social services sent out a not-social worker to do my care review. Not-social worker quickly realised we need a full care review, not a quick "everything's fine, sign here" as he was expecting. He said he's going to yell at people for us. Made it clear we're not coping.
Fortijuice seemed to help at first when mixed with lemonade, but then they made nausea really really bad. Need to contact dietician as I'm meant to be having three a day.
Eating has improved a bit, and I've gained some weight back, but food digestion seems broken. I'm bringing up food I ate over 12 hours later. And it's still identifiable. And not nice at all. It's also causing constipation.
My emotions have been all over the place for no apparent reason, though my mood overall has been good. Feels weird and frustrating, but it's probably an M.E. thing.
My anxiety is still really bad. Still having panic attacks over things like the doorbell. Need to speak to GP about it as I have a solution (small quantities of benzos) but need to see if she'll agree.
Am in ESA Support Group. That is a relief. Didn't need a work capability assessment or anything.
Currently have Vicky and a new friend, Duck, staying over. This is nice. Duck is from Israel and is a big geek (and autistic).
Johan bought a bike. Then discovered he can't ride up hills. We live in a very hilly area, halfway up a steep hill. We're trying to figure out a solution.
The 24 hour Tesco has reopened. Johan can go there when it's quiet (so late at night).
I need to catch up on Ponies and Doctor Who. Just need to have the right type of brainpower. I'm getting there though 🙂
I have a grade 1 (least serious) bedsore on my bum. Need to keep an eye on it as I don't want the skin breaking. It hurts (and has done for a couple of days). I really need a profiling bed.
I think I'm finally accepting that I'm severely disabled. Still don't feel it though. Just means I now get surprised when people do things that are easy for those who aren't severely physically disabled to do that I struggle with or can't do at all.
Dairy Milk Marvellous Creations Jelly Popping Candy Shells is the best chocolate. And seems really hard to get around here.
I've probably missed loads of stuff. Still not great at the whole communication thing but a little better than I was. I want to blog more so I'm hoping this improvement lasts so I'll have the spoons to do it. We'll see 🙂